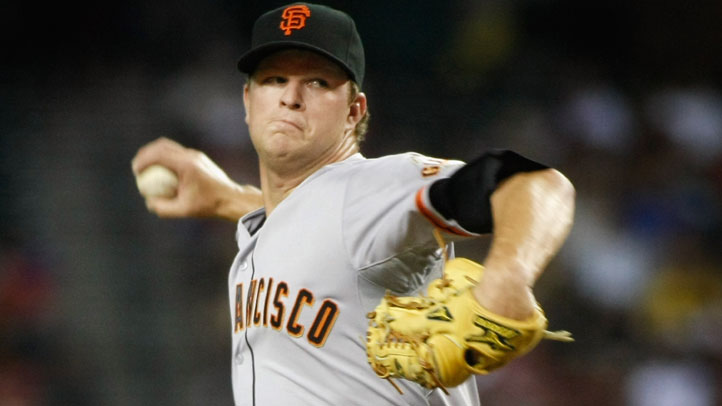 The Roberto Clemente Award is one of the most prestigious awards given in baseball, and the Giants Matt Cain has been nominated as a potential winner.
The Clemente Award "best exemplifies the game of baseball, sportsmanship, community involvement and the individual's contribution to his team." Clemente, a Hall of Famer, had the award once known as the Commissioner's Award re-named after him in 1973 following his death in a plane crash.
It's worth noting that Cain's nomination puts him in a special class, but not necessarily an elite one: there's a nomination from every Major League Baseball team.
Those nominees are chosen by a panel, however, so Cain deserves props in that case. And because, you know, he does lots of charity work.
Cain has a hand in a ton of different charities, primarily in fund-raising for Project Open Hand, which provides meals to seriously sick and elderly folks in and around Alameda County. Additionally, Cain works with the Make-A-Wish Foundation, Until There's A Cure, the No H8 Campaign, Junior Giants Program, and PAWS in San Francisco.
Based on that work, he's worthy of a possible win the for the award, nevermind that he did some good this season (and will continue to do good) for the Giants.
Cain's also a good bet to receive the bonus vote from the fans: anyone who wants to vote can also enter to win a trip for four to one game of the World Series or receive $2,500 in baseball gear donated to their community.
If Giants fans turn out like they did for the All-Star Game, it could boost Cain's profile. In the meantime, he'll just have to base his candidacy on his slew of charities.