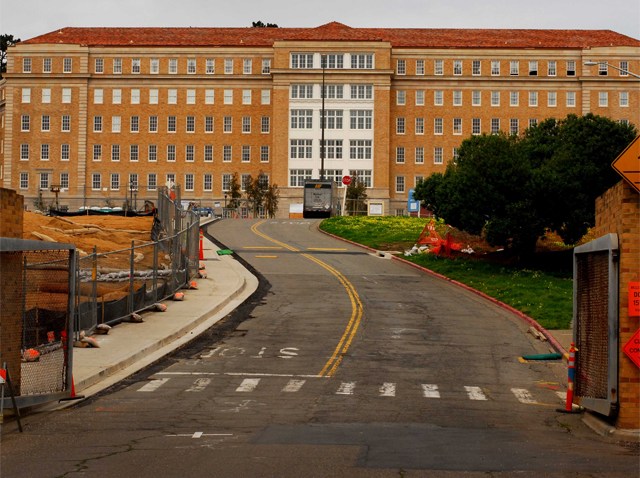 Earlier this month we noted that the full court press had begun on Presidio Landmark, pushing particularly hard on the former hospital's cosmic nexus of a few special traits: eco-friendliness, nature-friendliness, history-friendliness, and luxury-friendliness.
We'll admit, it makes for a damn unwieldy Venn diagram. Wednesday, Curbed took a closer look at the apartment building, set to come online later this summer as part of a larger overhaul of the Presidio's Public Health Service District. Developer Forest City says there are now some 200 people on the building's waiting list, some of whom have already been taken on tours of the site, unfinished though it may be.
Thanks to the "non-historic" wings that were removed early last year, Forest City was able to put in some extra square footage (following a rule banning any new net square footage). Those extra square feet come in the form of three extra floors added to the building's rear T wing, and in the separate seven-unit townhouse building. Following the Secretary of Interior's guidelines for historic buildings, the design of the three-story addition stands apart from the rest of the former hospital, while humbly, as they say, deferring to it. The T wing also defines two private courtyards for the Presidio Landmark, one on each side — one features a long fire pit, the other a hot tub. We didn't get to see them, but the in-house gym, yoga and Pilates studio, and chef's kitchen reside on the building's lower level, still unfinished.
The Belles Townhomes, named for the street they abut, are a little further off from opening date. At the moment, the Euro-inspired units are still covered by scaffolding. Forest City says the townhomes are the first residential construction to occur in the Presidio. Unlike the Landmark, whose adaptation was headed by architecture firm Perkins+Will, the design for the Belles Townhomes was first handled by LivingHomes and KieranTimberlake — a team that churns out eco-modern houses — before being handed off to local firm WRNS Studio (who you might recall was called in for a last-minute redesign of Don Fisher's Presidio art museum). The townhomes have their own garage in the rear of the building, as well as private patio areas and balconies, and all but one have private roof decks.
Because Forest City's essentially moved into a preexisting building with the Landmark, they say, they've had to be deal with existing layouts and circumstances — as a result, there are 30-some floor plan configurations. As the SF Business Times reported last week, rents start at $2,125 for a junior 1-bed, $2,875 for 1-beds, and $4,325 for 2-beds.
· New York Times Alludes to Very Specialness of Presidio Landmark [Curbed SF]
· Hospital-Apartments Dubbed Presidio Landmark, Coming This Summer [Curbed SF]
Copyright CURBS