President Donald Trump says he's in "no rush" to negotiate another financial rescue bill, even as the U.S. unemployment rate hit 14.7% in April, with more than 20 million Americans losing their jobs in April due to economic upheaval caused by the coronavirus.
The president's low-key approach came Friday as the Labor Department reported the highest unemployment rate since the Great Depression and as Democrats prepared to unveil what Senate Democratic leader Chuck Schumer calls a "Rooseveltian-style" aid package to shore up the economy and address the health crisis.
"We're in no rush, we're in no rush," Trump told reporters Friday during an event with House Republicans. He called on Democratic-controlled House to return to Washington, adding, "We want to see what they have."
Meanwhile, coronavirus cases show no sign of slowing down. As of Friday morning, the death toll in the U.S. is over 77,000 and there are more than 1.2 million confirmed cases, according to a tally by Johns Hopkins University.
Here are the latest developments in the coronavirus crisis in the U.S.:
Top White House Officials Buried CDC Coronavirus Report
The decision to shelve detailed advice from the nation's top disease control experts for reopening communities during the coronavirus pandemic came from the highest levels of the White House, according to internal government emails obtained by The Associated Press.
The files also show that after the AP reported Thursday that the guidance document had been buried, the Trump administration ordered key parts of it to be fast-tracked for approval.
The trove of emails show the nation's top public health experts at the Centers for Disease Control and Prevention spending weeks working on guidance to help the country deal with a public health emergency, only to see their work quashed by political appointees with little explanation.
The document, titled "Guidance for Implementing the Opening Up America Again Framework," was researched and written to help faith leaders, business owners, educators and state and local officials as they begin to reopen. It included detailed "decision trees," or flow charts aimed at helping local leaders navigate the difficult decision of whether to reopen or remain closed.
White House spokeswoman Kayleigh McEnany said Friday that the documents had not been approved by CDC Director Robert Redfield. The new emails, however, show that Redfield cleared the guidance.
Click here to read the full story.
Birx to Help Lead Remdesivir Distribution Effort as Hospitals Struggle for Access
Dr. Deborah Birx has been tapped to help manage the distribution of remdesivir to hospitals nationwide, the White House said Friday, amid growing frustration among physicians who say they have been unable to access the drug for their sickest COVID-19 patients.
Birx — a key member of the White House's coronavirus task force — is the person "who's constantly reviewing the numbers, constantly reviewing the data," White House press secretary Kayleigh McEnany said during a briefing Friday. "She really has the best grasp as to how that should be distributed, so she will be one of the chief consultants."
---
Trump Confirms Katie Miller, Pence's 'Press Person,' Tested Positive for COVID-19
An aide to Vice President Mike Pence has tested positive for coronavirus, marking the second person in the White House complex known to test positive this week.
President Donald Trump confirmed at a meeting with Republican lawmakers that the staffer is Pence's press secretary Katie Miller.
Miller told NBC News she tested negative yesterday and then positive today. She said she is asymptomatic.
Trump said he hasn't been in contact with Miller and that Pence has tested negative.
"She was tested very recently and tested negative, and then today, I guess for some reason, she tested positive," Trump told reporters Friday, referring to Miller as the vice president's "press person."
Miller's husband, Steven Miller, is a senior advisor to the president. Trump attended the couple's wedding earlier this year, which took place at the Trump International Hotel in Washington, D.C.
A senior administration official earlier told NBC News the staff member was not scheduled to travel with Pence Friday on his trip to Iowa. Members of the media traveling with the vice president reported a delay in takeoff and seeing several other staffers deplaning before Air Force Two departed from Andrews Air Force Base.
It was not immediately clear if the flight delay was due to the Pence staff member's positive coronavirus test.
The news comes a day after the White House said a member of the military serving as one of President Donald Trump's valets has tested positive for the coronavirus. The White House said Thursday Trump and Vice President Mike Pence have since tested negative for the virus and "remain in good health."
Federal guidance has been that a person who was exposed to a confirmed case of the virus should self-isolate for 14 days, but a different set of recommendations apply to those deemed essential workers. The Centers for Disease Control and Prevention says essential workers can continue to report to work as long as they monitor their temperature at least twice a day and wear a mask.
Trump and Pence have generally refrained from wearing masks, citing the fact that they are regularly tested.
---
NYPD: 81% of Social Distancing Citations Went to Blacks, Latinos
The New York Police Department said it has issued 374 summonses tied to social distancing enforcement from March 16 through May 5, with 89 percent issued to men and 81 percent to people identified as black or Latino, NBC News reports.
The department had about 1 million contacts with the public regarding social distancing in that period, including visits to pharmacies, supermarkets, bars, restaurants, parks and other institutions and establishments, it said.
A total of 193 summonses, or 51.6 percent, were issued to blacks; 111, or 29.7, percent to Latinos, with the majority of enforcement occurring in the Brooklyn patrol borough, the department said.
Of all summonses, 66 percent went to people between the ages of 20 and 39, with 46 percent going to people ages 20 to 29.
NBC New York reports Mayor Bill de Blasio responded late Thursday night, in a tweet, by supporting the use of summonses while saying the disparity "does NOT reflect our values."
"Saving lives in this pandemic is job one. The NYPD uses summonses and arrests to do it. Most people practice social distancing, with only hundreds of summonses issued over 6 weeks. But the disparity in the numbers does NOT reflect our values," de Blasio said.
'Every Parent's Nightmare': Second Child in NY Dies of Rare Inflammatory Condition
A 5-year-old boy in New York state has died of an illness possibly linked to COVID-19, and dozens of other children in the state have fallen severely ill with a similar malady that scientists have linked to the coronavirus, Gov. Andrew Cuomo said Friday.
Cuomo did not provide details about the child, who he said died Thursday. But he added there have been 73 reported cases in the state of children showing symptoms similar to Kawasaki disease — a rare inflammatory condition in children — and toxic shock syndrome. At least one other child in the state has died of the condition, NBC News York reports.
The boy's death is sad news for New Yorkers who believed children were largely unaffected by the coronavirus, Cuomo said.
"So this is every parent's nightmare, right? That your child may actually be affected by this virus," the Democratic governor said. "But it's something we have to consider seriously now."
Dozens of children elsewhere in the U.S. have been hospitalized with the inflammatory condition that might be linked to the coronavirus and was seen in Europe.
Symptoms include prolonged fever, severe abdominal pain and trouble breathing.
---
Court Halts Ban on Mass Gatherings at Kentucky Churches
A federal court halted the Kentucky governor's temporary ban on mass gatherings from applying to in-person religious services, clearing the way for Sunday church services.
U.S. District Judge Gregory F. Van Tatenhove on Friday issued a temporary restraining order enjoining Gov. Andy Beshear's administration from enforcing the ban on mass gatherings at "any in-person religious service which adheres to applicable social distancing and hygiene guidelines."
The ruling from the Eastern District of Kentucky sided with the Tabernacle Baptist Church in Nicholasville, Kentucky, but applies to all places of worship around the commonwealth. Two other federal judges, including U.S. District Judge David Hale, had previously ruled the ban was constitutional. But also on Friday, Hale, of Kentucky's western district, granted Maryville Baptist Church an injunction allowing in-person services at that specific church to proceed, provided the church abide by public health requirements.
Exceptions to the Democratic governor's shutdown order include trips to the grocery store, bank, pharmacy and hardware store. Beshear had previously announced that places of worship in Kentucky will be able to once again hold in-person services starting May 20, as part of a broader plan to gradually reopen the state's economy. Earlier Friday, he outlined requirements for places of worship to reopen, including limiting attendance at in-person services to 33% of building occupancy capacity and maintaining 6 feet (2 meters) of distance between household units.
Sen. Cruz Gets His Hair Cut at Dallas Salon Where Owner Was Jailed
Sen. Ted Cruz, R-Tx., got a hair cut Friday morning at the Dallas salon whose owner was jailed for defying the state's public health order by keeping her business open, NBC DFW reports.
Cruz said he hadn't had a hair cut in about three months, due to the pandemic, but that he could think of no better place to get it done than Salon A La Mode.
Friday marked the first day some businesses in the state, including hair salons, restaurants, retailers, could legally reopen.
Shelley Luther was cited last month for keeping her salon open despite state and local directives that kept nonessential businesses closed, but she continued to defy the order and tore up a cease and desist letter in front of TV cameras. A Dallas judge found her in contempt of court and sentenced her Tuesday to seven days behind bars. Luther was released from jail Thursday after the governor weakened his own mandate following an outcry by conservatives and GOP lawmakers.
"I'm proud to stand with Shelley Luther. What happened to her was wrong," Cruz said after his hair cut Friday. "That's not right. That's not justice. That's not Texas."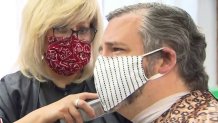 FDA Approves First at Home Saliva-Based Virus Test
U.S. health regulators approved the first saliva-based coronavirus test that allows people to collect their own sample at home.
The new at-home option is expected to expand use of the test developed by Rutgers University, which the Food and Drug Administration first authorized last month. People can use the plastic tube at home to provide a saliva sample and ship it to a laboratory for processing.
The test will be available through a New Jersey network of hospitals and testing sites affiliated with Rutgers. Initially, the government limited the test to health care facilities and testing sites with professional supervision.
Wide-scale testing is considered essential to containing the spread of COVID-19 and safely reopening businesses and schools. But many states are still struggling to reach the testing levels recommended by health experts.
---
Mortgage Bailout Swells to 4.1 Million Borrowers
In the past week, 225,000 more borrowers took advantage of government and bank mortgage forbearance programs, according to data firm Black Knight, CNBC reports.
The rise brings the total to nearly 4.1 million homeowners not making their monthly mortgage payments, representing 7.7% of all active mortgages.
While the numbers are far higher already than federal regulators predicted, borrower demand for help during the coronavirus crisis is actually slowing. About half as many borrowers asked for forbearance in the past week, compared with the previous week.
"After surging at the beginning of April and then rising again near the 15th— when most mortgages become past due and late fees are charged — the number of new forbearance requests has declined in recent weeks," said Ben Graboske, president of Black Knight Data & Analytics.
Read the full story on CNBC.com.
---
Melinda Gates Calls Trump Administration's Pandemic Response 'Chaos'
Melinda Gates, who has donated millions in grant funding to help fight the coronavirus outbreak through the Bill and Melinda Gates Foundation, criticized the Trump administration's handling of the coronavirus outbreak, calling the response "chaos."
"I'm both surprised we weren't better surprised but quite honestly I'm surprised we've wasted so much time. That we haven't had leadership at the national level to get out tests in the right way, protective gear in the right way, contact tracing in the right way," Gates said in an interview with "TODAY" show co-anchor Savannah Guthrie. "And so you're seeing what's happening. And it's chaos."
Gates also said there are "a few good candidates" for a vaccine and that the U.S. needs "to start looking at a paid medical leave policy" to help workers on the front lines.
---
Trump: I Have Not Been Tested for COVID-19 Antibodies
President Donald Trump said Friday he has not been tested for coronavirus antibodies, but "will get one soon."
In an interview on "Fox and Friends" Friday morning, the president was asked if had undergone testing for antibodies, which doesn't tell whether someone is currently infected with the virus, but whether they were infected in the past, after one his White House valets tested positive for COVID-19.
Trump noted he had been tested for COVID-19 "a number of times" and would likely take the antibody test at some point in the near future.
The revelation Thursday that the valet, a member of the military responsible for serving the president's food and beverage, marked the latest coronavirus scare for Trump, and the first known instance where a person who has come in close proximity to the president has tested positive since several people present at his private Florida club were diagnosed with COVID-19 in early March. The person tested positive on Wednesday.
"We have the best testing in the world, but testing is not necessarily the answer because they were testing [the valets], they tested them four days before and now I guess everybody is being tested every day," Trump told "Fox and Friends."
---
2 Arrested in Michigan Slaying of Guard Over Face Mask Order
Two men were arrested Friday in the fatal shooting of a Michigan security guard who demanded a woman wear a mask while shopping at a store.
Genesee County authorities said Ramonyea Bishop, 23, was taken into custody at an apartment in Bay City. His alleged accomplice, Larry Teague, 44, was arrested Thursday near a motel in Houston.
Authorities have said that Teague's wife, Sharmel Teague, got into an argument with security guard Calvin James Munerlyn who said her daughter needed to wear a mask in the store due to state orders aimed at slowing the spread of the coronavirus.
Sharmel Teague was charged Monday with first-degree murder and is in custody. Larry Teague and Ramonyea Bishop are also charged with first-degree murder, although they have not been arrested.
---
Staff, AP