Fiorina: Voters Want a Problem Solver in Senate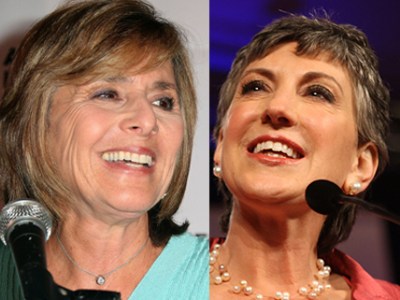 Republican Senate challenger Carly Fiorina on Saturday headed into the final weekend of her race to unseat Democratic Sen. Barbara Boxer with a stop at a Republican phone bank, saying Californians need a senator who knows how to create jobs.
Fiorina served pancakes to about two dozen supporters who gathered at a San Diego County Republican Party office, where she brushed aside recent polls that show her trailing her opponent.
She called Boxer, who is seeking a fourth term in the Senate, a career politician who doesn't understand how to help pull the country out of a deep recession.
"This isn't just about beating Barbara Boxer, yes it is about that because she is one of the most liberal, partisan, ineffective senators in the U.S. Senate," the former Hewlett-Packard Co. chief executive said. "We have to fight to preserve the opportunities that people need to live the American Dream."
After several public opinion polls in late summer pointed to the race as a potential toss-up, recent polls have shown Boxer building a narrow lead. Fiorina has dismissed some of those recent polls, including a Field Poll released Friday that showed her trailing Boxer 49 percent to 41 percent, with one in 10 voters undecided.
She has said Boxer would not be receiving so much help from the White House and fellow Democratic Sen. Dianne Feinstein if she weren't in trouble.
President Barack Obama has traveled to the state three times this year on Boxer's behalf, and first lady Michelle Obama attended a rally and fundraiser for her last Tuesday. Fiorina needs to keep her supporters optimistic to ensure they vote.
"It truly does come down to the next three days," Fiorina told the group at her first campaign stop of the day. "Everyone agrees whoever gets out their vote wins."
Fiorina is also scheduled to campaign in coastal Orange County, Sacramento and Chico on Saturday. Boxer also has events planned throughout the state, beginning with a stop Saturday in San Jose to meet with volunteers.
Fiorina returned to the campaign trail Thursday after being hospitalized the previous two days. She was being treated for an infection that stemmed from reconstructive surgery after her successful battle with breast cancer.
The former Hewlett-Packard Co. chief executive is trying to keep voters focused on her central campaign theme -- getting the economy growing again. She reacted to news that the nation's gross domestic product grew at a modest rate of 2 percent last quarter by saying the number confirmed that the federal government's $814 billion economic stimulus plan "was only successful in stimulating growth in the size of government."
She also criticized Boxer for opposing extending the 2001 and 2003 tax cuts for all taxpayers, including the wealthy. Boxer favors letting the tax cuts expire for those families making more than $250,000 a year.
While Boxer has said jobs will define the election, she alluded to abortion and offshore oil drilling on Friday as a way to draw a distinction between the incumbent and her Republican challenger.
Polls show most California voters oppose expanded offshore drilling off the Pacific Coast, while a solid majority also support a woman's right to have an abortion. Fiorina opposes abortion and says an expansion of offshore drilling should be left to California voters.
"Those are two huge, seminal issues in this state, where the vote is critical," said Feinstein, who campaigned with Boxer on Friday. "We have to fight to protect our coast, and if one person won't fight to protect it, it cuts our effectiveness by 50 percent."
Boxer has defended her votes on the stimulus bill and other legislation designed to get the unemployed back to work or to maintain the jobs of teachers.
"Those jobs bills would have failed if she was in the Senate instead of me because Senator Feinstein would have been the lonely voice in California. Her vote would have been nullified by Fiorina's stand," Boxer said.
Fiorina and her supporters are hoping voters will want to give someone else a chance.
"She knows what it is like to live in the real world," said 49-year-old Sue Collins, a single mom who was making phone calls on Fiorina's behalf Saturday. "It's time we get, in Washington, people who understand the way the economy works."