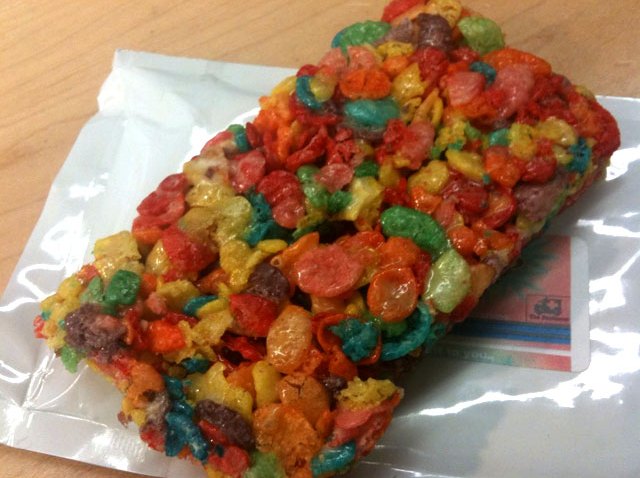 Sharing a snack at a Bay Area elementary school turned into a police investigation and drug lesson Monday.

A fifth grader at Stoneman Elementary School in Pittsburg, Calif. shared a Fruity Pebble cereal snack baked with marijuana with several other students during recess.

Administrators say eight students took tiny bites from the section of baked snack, which was about the size of a marble. Police say the student who took it to school got it from her older sister and knew there was marijuana in it. The sister is a licensed medical marijuana patient told police she got the snack from a dispensary. The treat was hidden in her purse but fell out. Police said she wasn't negligent and they don't plan to file charges. Lab tests confirmed the treat had marijuana in it.

A couple of students told school officials about the snack and they called cops and paramedics. All the students were fine. They had ingested "minute amounts, basically pieces of the pebbles," police say. Their vitals were checked and found to be within the normal range.

The kids who sampled the snack were suspended because they knew about the situation and didn't tell school authorities. The girl who took it to school could face stiffer disciplinary acton. Stoneman Elementary principal sent out a letter reminding parents to teach their kids to notify adults when they hear of something dangerous.
Medical marijuana dispensaries sell cannabis in many forms so patients have a variety of ways to medicate. There are the easily-recognizable leafy green buds alongside edibles like lollipops, cookies, brownies, bon bons and even ice cream. There are also powders that can be mixed with water for patients who have difficulty ingesting the edibles or medicating by smoking the weed.
But this case highlights the concerns that so many have brought up in the medical marijuana age. How do we keep it away from curious kids? Feel free to weigh in on the comments section below or through our Sound Off interactive page.