A 79-year-old man has been arrested in connection with a fatal hit-and-run collision last Friday in San Jose near the SAP Center that has now been classified as a homicide, a police spokesman said Friday.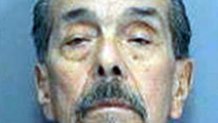 The suspect, Ernest Cervantes of San Jose, was arrested Thursday in connection with the collision that killed a 62-year-old man on Jan. 15, police Officer Albert Morales said.
The suspect knew the victim, who has not been identified until his next of kin is notified of the death, according to Morales.
Cervantes allegedly struck the victim while driving a full-size white pickup truck south on Delmas Avenue near West Santa Clara Street shortly before 5 a.m. last Friday, Morales said.
Responding officers found the pedestrian suffering from serious injuries and emergency crews pronounced him dead at the scene a short time later, according to Morales.
The truck continued traveling on Delmas Avenue and did not return to the scene, but was later recovered by police, Morales said.
Cervantes has been booked into Santa Clara County Jail, where he is being held without bail, according to jail records.
Anyone with information on the case is asked to call police Detective Sgt. Paul Hamblin or Detective Jason Tanner at (408) 277-5283. Those who wish to remain anonymous may call Silicon Valley Crime Stoppers at (408) 947-7867.
Copyright BAYCN - Bay City News