Thousands of people flocked to San Francisco for a #NoBanNoWall rally amid a second straight week of uncertainty over President Donald Trump's immigration order.
Roughly 22,000 people expressed interest on Facebook in resisting a move labeled by organizers as "racist and exclusionary," and 10,000 were expected to attend.
The four organizers of Saturday's rally were children of refugees and immigrants and wrote, "The intention of this event is to create space for our community to voice our beautiful stories and tribulations."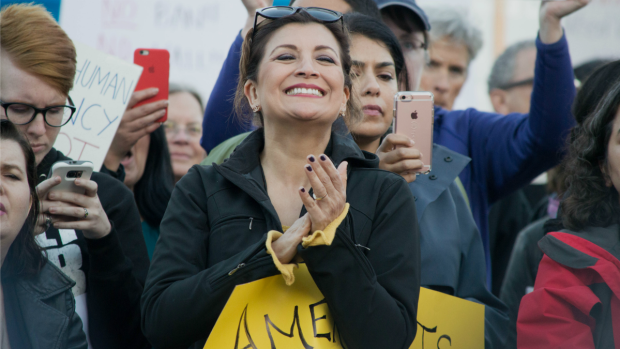 #NoBanNoWall Rally Draws Droves of Protesters
The gathering on Civic Center Plaza was passionate and loud, but peaceful, with protesters carrying signs that read "No immigrant ban" and "Fight ignorance not immigrants." The crowd chanted "We're all children of immigrants" and "This country is already great and immigrants are the ones that make it great."
Organizer noted that the event was planned before the news of the temporary appeal. However, their fight is far from over as the Justice Department files a notice to appeal the federal judge's ruling.
"If we remain vigilant, if we remain strong, if we remain together, it won't happen again," former Congressman Mike Honda said to the crowd.
Participants said they attended the rally to fight against discrimination based on religion and national origin. A sentiment, speakers said, was at the heart of the ban on travelers and immigrants from seven predominantly Muslim countries.
To make their point, some children dressed in white robes, known as thobes, and a handful of Muslim men practiced their faith outside City Hall.
"This country was built on immigrants, for immigrants, by immigrants, and to close the borders and say, 'We are not going to allow immigrants,' is anti-American," said Rahel Ruiz, a refugee from Ethiopia who now lives in Castro Valley.
Norma Chili of Novato agreed.
"Everything Trump is doing is so against our country and against the world that there's no reason to not come out and complain vehemently and complain about everything he's doing," she said.
Earlier that morning, a group that calls itself SF United Against Trump met at the Women's Building on 18th Street. The event attracted about 4,000 on Facebook, with another 20,000 people marked interested.
As the rain drizzled outside, hundreds came in person to sharing ideas, reflections and stories at a microphone.
While some speakers drew claps and support, others prompted criticism.
Working committees on climate protection, immigrant legal workshops and more were drafted for the next hour, with the next large demonstration proposed for Feb. 20, President's Day.
Meanwhile, on the Peninsula, volunteer lawyers were on standby at San Francisco International Airport where Customs and Border Patrol officers have been told to process people temporarily as if the immigration ban didn't exist.
"We're glad for that. We're grateful that we finally have a little bit of calm here at San Francisco airport," said Chelsea Haley Nelson, an immigration attorney.
A Syrian family at the #NoBanNoWallSF rally. https://t.co/bQBtmDim1cpic.twitter.com/v7lwtxQr3g

— Riya Bhattacharjee (@loislane28) February 5, 2017
Immigrants from Syria, Iraq, Iran and other countries gather peacefully for #NoBanNoWallSF rally. pic.twitter.com/l1Vrweds91

— Riya Bhattacharjee (@loislane28) February 5, 2017
A woman from Syria smiles when I ask her if she has a message for President Trump. #NoBanNoWallSFpic.twitter.com/qvxk5m5P4n

— Riya Bhattacharjee (@loislane28) February 5, 2017
Trump and Trump's cabinet parody group dancing at City Hall on side of "No Ban, No Wall" rally. @nbcbayareapic.twitter.com/mXIg0bE0ZR

— Rebecca Greenway (@RebeccaGreenway) February 5, 2017
"If we remain vigilant, if we remain strong, if we remain together, it won't happen again:" Former Congressman Mike Honda @nbcbayareapic.twitter.com/WL7poO2RGG

— Rebecca Greenway (@RebeccaGreenway) February 4, 2017
"We're all children of immigrants:" Large crowd speaks out against #immigrationban at #NoBanNoWallSFpic.twitter.com/jD4y8edQV3

— Riya Bhattacharjee (@loislane28) February 4, 2017
#NoBanNoWallSF participants practice their faith in peace outside San Francisco City Hall pic.twitter.com/Q149ZK7oSu

— Riya Bhattacharjee (@loislane28) February 4, 2017
Muslims practice their faith in peace outside SF City Hall. #NoBanNoWallSFpic.twitter.com/2UaWf7GMgW

— Riya Bhattacharjee (@loislane28) February 4, 2017
#NoBanNoWall rally in SF speaks out against President Trump's #immigrationbanpic.twitter.com/x8BTt1DpQO

— Riya Bhattacharjee (@loislane28) February 4, 2017
"We're all humans." Immigrants speak out at #NoBanNoWallSFpic.twitter.com/1QpPiRYFWj

— Riya Bhattacharjee (@loislane28) February 4, 2017
"There's no one who can stop us." #nobannowallsfpic.twitter.com/mvYzl6EPlD

— Riya Bhattacharjee (@loislane28) February 4, 2017
"This country is already great and immigrants are the ones that make it great." #NoBanNoWallSF at SF Civic Center pic.twitter.com/QgAgzLyMYr

— Riya Bhattacharjee (@loislane28) February 4, 2017
Happening now: crowd gathers for "No Ban, No Wall" rally at City Hall in San Francisco. @nbcbayareapic.twitter.com/9seMJCcpZ2

— Rebecca Greenway (@RebeccaGreenway) February 4, 2017
Following the 3 pm march today, the resistance group proposes the next Anti-Trump demonstration for February 20, President's Day @nbcbayareapic.twitter.com/jY89u9QEwh

— Rebecca Greenway (@RebeccaGreenway) February 4, 2017
Quick snapshot: As participants stream in, organizers prepare for an agenda including working groups to get organized going fwd. @nbcbayareapic.twitter.com/RgMAm5JeTv

— Rebecca Greenway (@RebeccaGreenway) February 4, 2017
At 1 pm: Anti-Trump organizing meeting ahead of march through San Francisco. Room is large, but not for the thousands RSVP'd @nbcbayareapic.twitter.com/PPzdfRHGWc

— Rebecca Greenway (@RebeccaGreenway) February 4, 2017