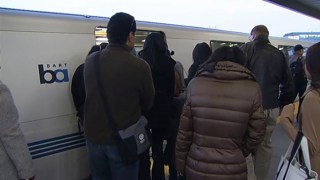 BART was recovering from a major delay Friday evening after what transit agency officials described on Twitter as a "domestic dispute."
Service was restored by 5 p.m., after BART officials tweeted that a possible kidnapping disturbed San Francisco southbound and eastbound trains.
A BART spokesman said a father tried to take a child from a mother and nearly boarded a train at the Montgomery Station in downtown San Francisco. Police told NBC Bay Area that a suspect, a child and a victim were all accounted for.
Apologies for the delay in downtown San Francisco - possible kidnapping in progress. Please be patient.

— SFBART (@SFBART) January 9, 2016
All trains have been released and service is being restored. Apologies for the delay.

— SFBART (@SFBART) January 9, 2016
The 'kidnapping' was a domestic dispute prompting police activity. System restoration is in progress.

— SFBART (@SFBART) January 9, 2016
Thank you for your patience. Police activity has resolved and system service has been restored.

— SFBART (@SFBART) January 9, 2016