Smoke from a grass fire at Camp Parks in Dublin was visible for miles Tuesday afternoon.
A smoke grenade used during an outdoor military training sparked the fire, U.S. Army spokeswoman Susan Clizbe said.
Alameda County fire department said it responded to the flames with fire engines and bulldozers on the ground and with helicopters and airplanes in the air.
The fire started around 2:30 p.m. and was estimated to be 157 acres before crews said they gained control.
The NBC Bay Area helicopter flew over the fire and found the fire burning in an area of grassy hills. At one point, the flames were burning toward a structure at the U.S. Army Reserve Parks Reserve Forces Training Area. Fire engines and a bulldozer were seen on the scene of that portion of the fire appeared to make a stand to save the white structure.
No other structures were threatened, according to fire officials and in the end no structures were damaged.
The fire had flames on two sides. One side of the fire contained trees that caught fire and produced black smoke.
At least two water-dropping airplanes were seen dropping retardant on the flames.
Alameda fire department told NBC Bay Area at 3:20 p.m. it had four air tankers, a helicopter, a dozer and nine engines on the scene.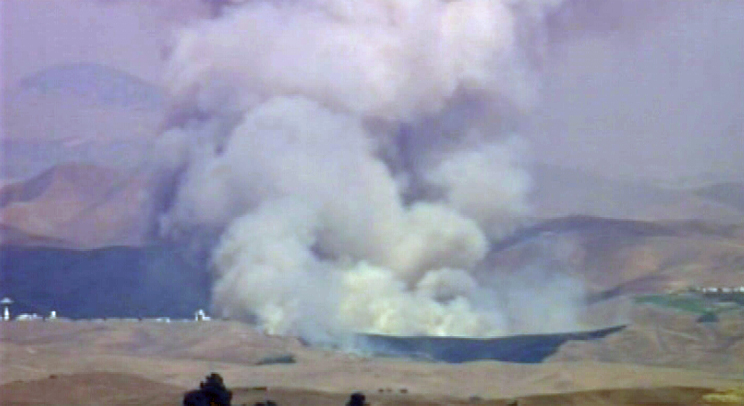 Camp Parks is a military training area.
In the past, the area has been used for fire training, but Tuesday's fire was unplanned.
The area was actually under a Red Flag warning with high fire danger.
More Bay Area Stories:
Published at 3:14 PM PDT on Aug 20, 2013 | Updated at 5:35 PM PDT on Aug 20, 2013