The United States set a world record to win the women's medley relay Saturday at the London Olympics.
The golden foursome included U.C. Berkeley star swimmer Dana Vollmer.
The Americans clocked 3 minutes, 52.05 seconds, slicing 0.14 off the previous mark set by China at the 2009 world championships at the height of the high-tech bodysuit era.
Missy Franklin swam the leadoff backstroke leg, Rebecca Soni did the breaststroke, Vollmer competed in butterfly and Allison Schmitt had the anchor leg in freestyle.
Australia touched in 3:54.02 to take the silver medal and Japan finished in 3:55.73 to take bronze.
The American four stars embraced after their record swim, laughing and raising their arms in another victory. There was never any doubt in this race, as the Americans jumped out to a big lead early and blazed to a convincing victory.
Vollmer tweeted good luck to her swimming teammates just before hitting the pool.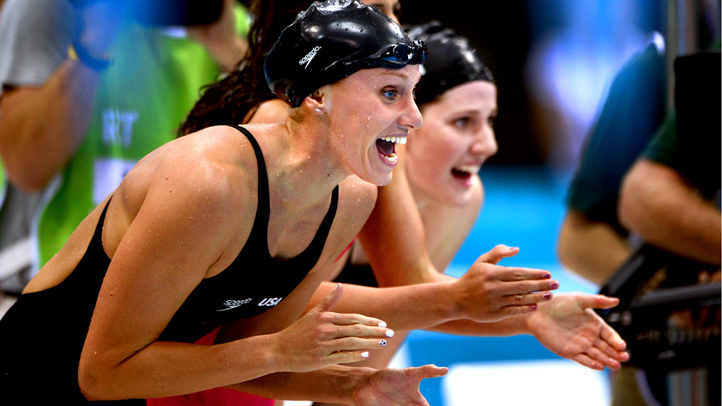 Let's go ladies, its the Last One! Let's make it the best one & have a blast! 4x100medley relay!! @arschmitty@rebsoni@FranklinMissy#fb
This is Vollmer's third gold medal of the games. she also struck gold in the Women's 4x200m Freestyle Relay, and the Women's 100m Butterfly.
She set a world record in the 100m butterfly.
The Americans have dominated in the pool in these Olympics, racking up 29 medals so far. That's as many as any other three nations combined.
Below are the tweets from Vollmer AFTER the win. Congrats to Dana!!