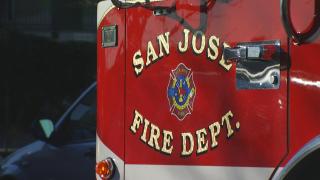 Crews knocked down a two-alarm fire at a four-unit residential building in South San Jose on Tuesday afternoon, a fire spokesman said.
Firefighters responded to a report of a fire on the 5900 block of Fig Grove Court at about 1:10 p.m., San Jose Fire Capt. Christopher Salcido said.
Crews arrived to find flames and smoke coming from both floors of a middle unit at the four-unit building, Salcido said. The fire was quickly upgraded to a second alarm and was knocked down shortly after 1:30 p.m., he said.
The blaze was contained to the unit where it started and firewalls installed in the building prevented flames from spreading to neighboring residences, according to Salcido.
People in the adjacent units were evacuated as a precaution, Salcido said.
Crews remain on scene this afternoon to assess the damage to the building. The American Red Cross was called to help six people, comprised of adults and children, who were displaced by the fire, he said.
No injuries were reported and the cause of the fire is under investigation.