Just after President Donald Trump signed orders on Wednesday to cut off federal funding to the nation's "sanctuary cites," mayors from the left-leaning Bay Area's three largest cities, Oakland, San Francisco and San Jose, as well as Berkeley, reaffirmed their commitment to immigrants as well as a host of other issues.
By doing so, those four cities could stand to lose a combined $1.2 billion in money that funds such things as Head Start programs, HUD grants for affordable housing, transportation funds and Department of Justice and Homeland grants – the latter of which is unlikely because of Trump's pro-security stance. "It's time to restore the civil rights of Americans," Trump said Thursday at a Republican retreat in Philadelphia.
Still, the mayors are willing to risk it.
"If and when the federal cuts come, we will be united behind our promises and values. We are ready," San Francisco Mayor Ed Lee said during his state-of-the-city address on Thursday. He said his city gets $1 billion from the federal government.
He also pinned a tweet to the top of his feed saying, "We're confirming our sanctuary city status," to which he got both support and flak.
Someone with Twitter account called Deplorable Fighter said "um they have no rights, simple end of story." And the handle, New Sheriff in Town, wrote "We're going to shut your illegal a-- down."
San Jose is not officially a sanctuary city, meaning the council has never voted on a resolution to declare it as such. But city spokesman David Vossbrink said that because the police department does not ask people when they are arrested whether they are legal immigrants — and therefore does not help federal immigration agents in that way — Trump might indeed feel that the city should be penalized.
(Read police duty manual page 545: Officers will not detain or question a person for the purpose of discovering either the person's citizenship or status under civil immigration laws. But if the person is arrested and is not a U.S. citizen, the officer should complete an ICE form.)
Reuters compiled a chart showing that the Top 10 sanctuary cities in the country could stand to lose $2.27 billion in cuts with the new policy, although some of the numbers could be disputed. For example, Lee said San Francisco receives $1 billion a year in federal funds, while Reuters put the number at $71 million. Reuters noted their figure didn't account for money that is granted directly to social-service organizations and did not include federal money for law enforcement, which was not included in Trump's order.
Despite Trump's executive order saying he would stop giving money to cities that don't cooperate with federal immigration officials, several attorneys have said what he did is unconstitutional.
"The president has very limited power to exercise any kind of significant defunding," Peter L. Markowitz, the director of the Immigration Justice Clinic at the Benjamin N. Cardozo School of Law in New York told the New York Times.
According to a 2012 Supreme Court decision, Markowitz said Congress is not permitted to set conditions on spending to force states or cities to participate in a federal program against their will.
"You can't say 'if you don't use your police officers to go after unauthorized immigrants, you don't get any money for your hospitals,'" Markowitz told the Times. " They can't impose conditions that are totally unrelated."
According to the Immigrant Legal Resource Center, at least 39 cities and 364 counties nationwide count themselves as sanctuary jurisdictions. Only four states, including California, have laws that limit how much local police can help federal authorities hold immigrants in detention.
San Francisco has been in the national spotlight because of its controversial sanctuary city status. In July 2015, an undocumented immigrant shot and killed Kate Steinle on Pier 14 with a stolen gun. At the time, Trump and others bashed San Francisco because the sheriff's department released Juan Francisco Lopez-Sanchez from jail without telling ICE. The Board of Supervisors voted in May to uphold and revise the sanctuary city policy to clarify that law enforcement would only notify immigration authorities of an inmate's release in limited circumstances involving serious felonies.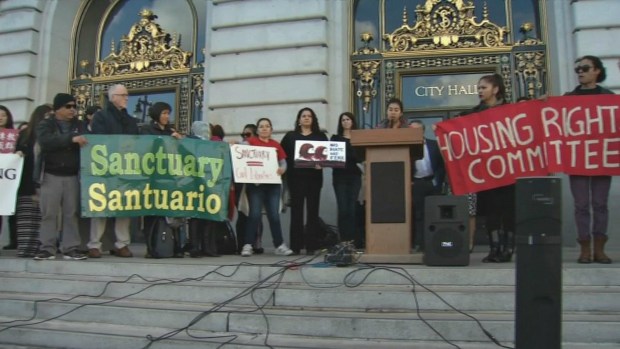 Bay Area Activists Rally for 'Sanctuary Cities'
Here's what Bay Area mayors said Wednesday about Trump's order, and how much federal funding they each receive.