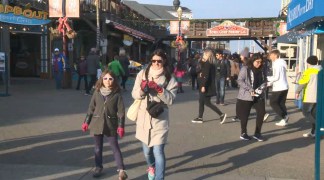 San Francisco's newest residents are richer, younger and more educated than those leaving the city, a new study finds.
A recent analysis by BuildZoom analyzed the characteristics of domestic cross-Metropolitan migrants. The study found that people migrating into the San Francisco Bay Area are richer, younger, and smarter than those migrating out.
BuildZoom evaluated the in-migrants by creating an index based on data in the categories of income, age, earners per household, and education.
The study found that, on average from 2005 to 2016, in-migrants to the San Francisco metro earned $12,640 a year more per household after arriving than out-migrants did before they left. This fact is referred to as "positive income sorting."
In addition to having a higher income, in-migrants to San Francisco also tend to have more earners per household than out-migrants. The difference reflects a greater prevalence among in-migrants of dual-earner couples and of households comprised of roommates.
BuildZoom's study also revealed that in-migrants tend to be younger than out-migrants. This is consistent with the notion of a transient class, whereby individuals arrive in young adulthood to experience the life and career opportunities that expensive metros have to offer and leave once they confront the realities of raising children in this environment.
In regards to smarts, the study found that in San Francisco, in-migrants tend to be more educated than out-migrants. This was calculated based on the percentage of in-migrants with a 4-year college degree or higher versus that of out-migrants.
The differences between in-migrants and out-migrants in San Francisco is common to populations of many other metropolitan areas across the country. While this may seem positive, it is also somewhat controversial.
For example, as BuildZoom stated, The fact that migration helps raise overall education levels in the more expensive metros while lowering them in less expensive ones only helps widen the existing rift.
Additionally, BuildZoom points out that positive income sorting helps sustain housing price appreciation, which is already a huge issue in the San Francisco Bay Area.