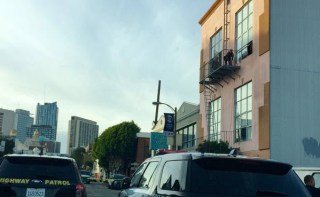 A man who ran from a California Highway Patrol traffic stop and threatened to jump from a two-story building in San Francisco's South of Market neighborhood late Wednesday was taken into custody with the help of a family pet, according to police.
The man had been dangling from the window of a building on 10th Street near Harrison Street for roughly three hours when Officer Grace Gatpandan announced via Twitter that he'd been talked down and taken into custody just after 6 p.m.
The suspect's cat was brought to the scene by family, Gatpandan said.
The cat "assisted" with "negotiating" the suspect off the ledge, according to Gatpandan, and the cat's presence was "paramount" in getting him down safely.
The suspect had been driving a stolen Toyota Highlander when a CHP officer pulled him over at 2:41 p.m. around the corner on Dore Street. He fled from the stop on foot, according to CHP Officer Vu Williams.
The driver jumped a fence and entered a two-story building on 10th Street near Harrison. He emerged from a second-story window where for several hours he perched shirtless, barefoot and threatening to jump as a large crowd gathered in the surrounding area.
Officers shut down 10th Street and climbed the fire escape to talk the man down, according to police, setting up large foam mats on the ground and pointing less than lethal projectiles at him. Then the cat showed up.
Gatpandan said the suspect might have been in an "altered state."
Thanks to #SFPD, #CHP and #SFFD and the cat for bringing the standoff to an end pic.twitter.com/WdI0FvtIdN

— Albie Esparza (@OfficerAlbie) October 8, 2015
Never underestimate the power of a owner's love for their pet #kitten! Great job #SFPD negotiations; scene clearing pic.twitter.com/tSayPeecue

— Ofc. Grace Gatpandan (@OfficerGrace) October 8, 2015