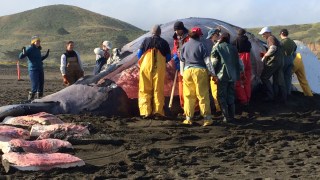 A team of 14 scientists performed a necropsy on the whale that was found floating in the Oakland Estuary on Wednesday morning, according to the Marine Mammal Center.
Scientists from the Marine Mammal Center and California Academy of Sciences determined the whale to be an immature male fin whale. The marine mammal measured about 52 feet in length.
Scientists searched for evidence of a blunt force trauma that could indicate a ship strike when performing the necropsy.
As the Senior Scientist at the Marine Mammal Center, Dr. Frances Gulland said deaths from ship strikes are becoming more common due to increasing in worldwide shipping.
"Every whale stranding is an important opportunity to learn more about these creatures, and how we can prevent future deaths," Gulland said. "Locally we must identify a solution that both works for shipping companies and keeps whales safe."
The whale's carcass was towed to Angel Island State Park yesterday by NOAA Fisheries, the U.S. Coast Guard and the U.S. Army Corps.
The dead whale is the latest of several that have turned up in the Bay Area, including three found on the shores of Pacifica since April. However, it is the first reported in the Bay itself this year.