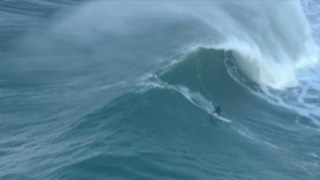 A stormy legal situation is generating even more doubt about the future of the Mavericks surf contest.
NBC Bay Area first broke the news contest organizer, Cartel Management, filed for chapter 11 bankruptcy protection in late January.
That move led many contest partners, including founder Jeff Clark, to publicly disavow Cartel and speculate the 2017 contest can't be reorganized in time.
Now NBC Bay Area has obtained court documents that show main sponsor, Red Bull, is objecting to Cartel hiring a legal team with money actually owed to Red Bull.
The sport drink giant claims Cartel is supposed to pay back $400,000 Red Bull paid in January for the rights to livestream this year's contest.
Red Bull maintains an amendment to its business agreement with Cartel stipulates contest organizers will "promptly refund all amounts paid by Red Bull (Red Bull Media House North America, Inc)" if the contest doesn't happen.
In bankruptcy proceeding documents, Red Bull accuses Cartel of "improperly diverting" $61,500 from the funds Red Bull paid to Cartel.
The Mavericks surf contest, called "Titans Of Mavericks" this year by Cartel, is an international competition called only when surf conditions along the San Mateo coastline are considered "optimal" for big surf. It's an invitation-only event and all invited surfers must arrive within 48-hours of the contest being called.
At this point, Cartel has not officially called off the contest but the company's contest permit is now facing legal challenges from various groups.
San Mateo County Harbor Commissioner Sabrina Brennan told NBC Bay Area, "this latest move by Red Bull, combined with the bankruptcy and legal fight over the contest permit and other necessary permits as well as other possible debts convinces me there is no way a contest can be held this year."