San Francisco police are asking anyone whose cell phone was stolen during the Bay to Breakers run to call detectives, because the thief, they believe, might also know something about the death of a Santa Clara man.
Police had previously asked for witnesses of the now-fatal Bay to Breakers assault to send them photos or video of the event. Now, they are trying to find out if anyone's cell phone was stolen that day and lead them to whomever took it.
All the effort is to find out who killed Stephen Martin, 30, of Santa Clara on May 20, who had been punched in Sharon Meadows in Golden Gate Park near the Sharon Arts Studio and tennis courts. The punch caused him to fall and hit the pavement. Martin was knocked out and never regained consciousness. He died June 8.
Police say Martin came with a bunch of friends to the highly popular race, and they were all dressed as trolls. Martin was wearing camouflage shorts, no shirt and a green wig. He wasn't registered as a runner, but friends told police that he was taking part in the post-race festivities.
At 5 p.m., there was a fight between Martin's group and a dozen other people, who were dressed in red-and-white 49ers outfits. One of the women in the group was wearing an orange tutu.
Click here to see those images.
During an earlier news conference, Cmdr. John Loftus said the fight may have been over a cell phone, but he wouldn't elaborate, and it may also have gang connections, though police emphasized Martin was not a gang member.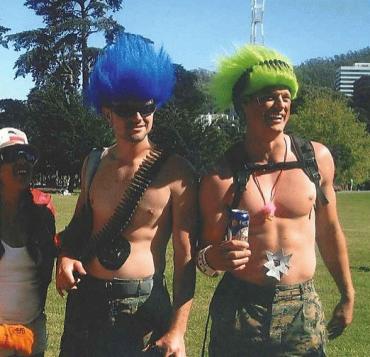 During the fight, police said a man from the 49ers group came up and punched Martin.
One of Martin's friends wrote on a Facebook page dedicated to finding the attackers that "a guy came up from nowhere and struck him on the side of his head. Steve fell to the ground hitting his head on the asphalt and has been in a coma since."
According to the homocide detectives on the case, the alleged suspects in the B2B homicide were stealing cell phones at the event and subsequent festivities.
Anyone who had photographs of the punch or had their cell phone stolen at race festivities is asked to contact San Francisco homicide inspectors at 415-553-1145. The anonymous tip line is 415-575-4444. People can also access text-a-tip at TIP411 and type SFPD in the subject line.
If you'd like to send donations to the family, you can email stephenmartindonations@gmail.com.
Published at 12:38 PM PDT on Jul 10, 2012 | Updated at 1:24 PM PDT on Jul 10, 2012