A man wearing hospital scrubs and carrying a fake gun was shot and injured by San Jose police Sunday morning, according to police. Late Monday police released a photograph of the toy gun (see below) and several audio recordings from 911 calls and dispatch. (Link here)
The dispatch call shows that San Jose police were told they were responding to a man with a gun prior to arriving at the location.
Someone called 911 around 7:45 a.m. Sunday to ask for help at the Extended Stay Hotel on Brokaw in San Jose. The caller said a couple workers had tried and failed to wake the man. When the operator asked if they thought the man needed medical attention, the caller added, "the thing is - he has a gun."
On Monday, police identified the man as Javier Gonzales-Guerrero, 25, of San Jose.
Police said they found Guerrero laying in a stairwell and a handgun was visible in his waist band.
Four officers surrounded the man and initially said they had trouble rousing him.
San Jose police said, "The suspect came to and reached for the gun in his waist band. Four officers, believing the suspect was about to try and shoot them, fired at the suspect, striking him multiple times. "
Investigators said they have since learned Guerrero had returned to the hotel after attending a Halloween Party where he dressed up in medical-type scrubs and a replica firearm. Police said they think he was also intoxicated.
His injuries were not considered life-threatening, according to police.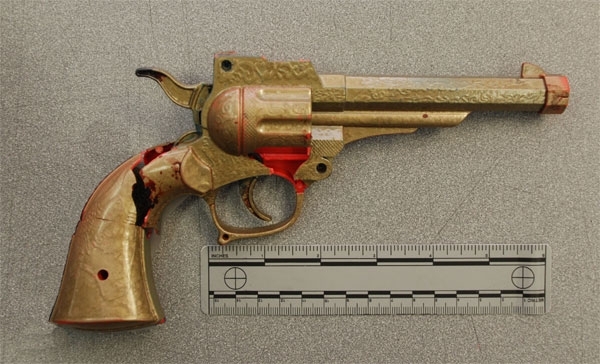 No officers were injured in the shooting. San Jose police released the ages and experience level of the four officers involved. All of them were in their 40s and had at least 13 years experience on the force.
This was San Jose's seventh officer-involved shooting. That is the total number of officer involved shootings in 2009 and 2010 together.


Published at 6:21 PM PDT on Oct 24, 2011