CHICAGO – The Jimmy Garoppolo era began for the 49ers on Sunday with the kind of optimism not typically associated with a team that entered December with one victory.
And Garoppolo showed plenty of the skills – a quick release and play-making ability – that led the 49ers to trade a second-round pick to the New England Patriots in order to acquire him a month earlier.
The 49ers' offense showed signs of life and the defense responded in a big way as Garoppolo's starting debut was a resounding success – a 15-14 victory over the Chicago Bears on Sunday at Soldier Field.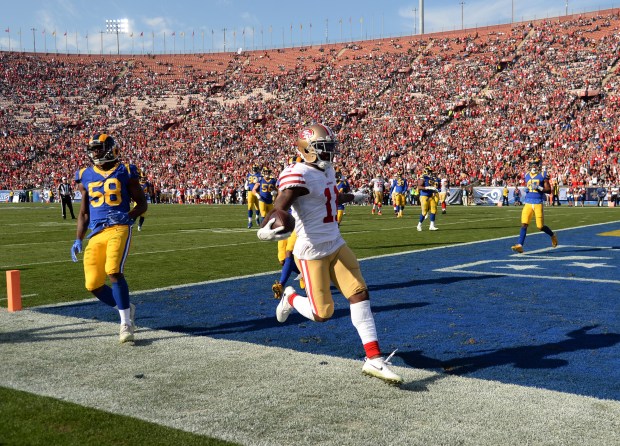 San Francisco 49ers 2017-2018 Season Highlights

Robbie Gould connected on his fifth field goal of the game with four seconds remaining to give the 49ers lead.
Garoppolo made his first start with the 49ers at Soldier Field – approximately 25 miles from where he grew up in the Chicago suburb of Arlington Heights, Illinois.
Making just the third start of his four-year NFL career, Garoppolo completed 26 of 37 pass attempts for 293 yards with no touchdowns and one interceptions. His second-quarter interception came on a pass that was completed to Louis Murphy before Bears defensive back Kyle Fuller ripped the ball from Murphy's grasp as they tumbled to the ground.
Robbie Gould, who spent his first 11 NFL seasons kicking for the Bears, provided most of the offense for the 49ers on Sunday with field goals of 33, 28, 35, 34 and 24 yards.
The 49ers trailed 14-12 at the end of three quarters despite significantly better offensive numbers. The 49ers outgained Chicago 285 to 103 through three quarters, and picked up 18 first downs while the Bears managed to move the chains only six times.
Rookie quarterback Mitchell Trubisky made his eighth consecutive start for Chicago after taking over for Mike Glennon. The Bears acquired the rights to Trubisky in a blockbuster trade with the 49ers to move up from No. 3 to No. 2 in the draft.
Trubisky completed 12 of 15 passes for 102 yards with one touchdown and no interceptions.
COHEN TURNS IT AROUND
Bears return man Tarik Cohen, a rookie from North Carolina A&T, turned what looked like a major negative into a 61-yard touchdown after fielding Bradley Pinion's second-quarter punt.
Cohen backtracked 15 yards on what looked like it might be a disaster for Chicago before he doubled-back, allowing the entire 49ers' coverage unit to overrun him. Pinion was the last hope, but he was blocked out of the play, leading to a touchdown that gave the Bears a 14-6 in the second quarter.
Cohen became the first rookie since Hall of Famer Gale Sayers in 1965 to have a punt return touchdown, rushing touchdown, receiving touchdown and passing touchdown in a season. He's the first player to accomplish that since Terry Metcalf in 1975.
THIS 'N' THAT
--The 49ers had a healthy 53-man roster for the first time this season, which meant the team's seven inactives were entirely coaches' decisions. Among the 49ers inactive players were defensive linemen Tank Carradine and Aaron Lynch.
--Defensive end Cassius Marsh, claimed off waivers two weeks ago from the Patriots, recorded a sack/strip of Trubisky to end the third quarter. Trubiskiy recovered his own fumble. It was his first sack with the 49ers. Marsh was active to replace Lynch.
--Elvis Dumervil extended his team-leading total of sacks to 5.5 with a first-half sack of Trubisky.
--Cohen had a second long punt return called back due to Ben Braunecker's illegal block above the waist in the fourth quarter to nullify a 67-yard return early in the fourth quarter.