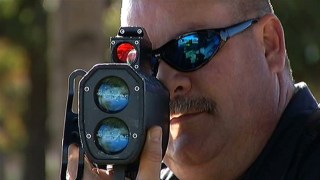 Lay off the gas, San Francisco drivers.
As part of the "Safe Speeds SF" campaign, police officers in the city by the bay will be increasing patrols on 12 "priority" streets for the next year to combat speedsters and protect vulnerable pedestrians, according to the San Francisco Municipal Transportation Agency. A total of 14 "secondary" streets will be also be under the watchful eye of law enforcement entities.
A sum of $2 million in federal grants is being used to fund the beefed-up enforcement on stretches of "priority" city streets including Bay Street, Howard Street, Leavensworth Street, 16th Street, Bayshore Boulevard, San Jose Street, Turk Street, Pine Street, Geary Boulevard, Stanyan Street, Sunset Boulevard, and 19th Avenue, according to the SFMTA.
"Priority" streets include those that are home to drivers pressing too hard on the accelerator, according to SFMTA.
The safety move comes as Mayor Ed Lee and city leaders hope to bring the number of traffic deaths to zero by 2024, according to San Francisco's "Vision Zero SF" initiative.
"Speed is a killer and we should do everything in our power to slow down reckless drivers - through enforcement, education, and engineering - to create safe streets," Lee said in a statement. "And we need to focus speed enforcement in the areas where data has shown it is most needed."
"Vision Zero SF" estimates that 30 fatalities and 200 injuries occur each year on the city's roads.