San Francisco police say the man arrested in connection with anti-Chinese graffiti reported in the city's Portola neighborhood over the weekend was booked on five counts of felony hate crime.
Police identified the suspect on Wednesday as 62-year-old San Francisco resident John Schenone. They say he matched a description of the person they believe is responsible for six separate instances of hateful graffiti.
Officers received a report Monday that the words "No more Chinese" were spray-painted in several locations in the neighborhood. The words appeared to have been written on Sunday, but investigators did not release the exact times the vandalism occurred.
Schenone was booked into jail on five counts of felony hate crime and five counts of felony vandalism, authorities said.
Police Investigate Anti-Chinese Graffiti as Hate Crimes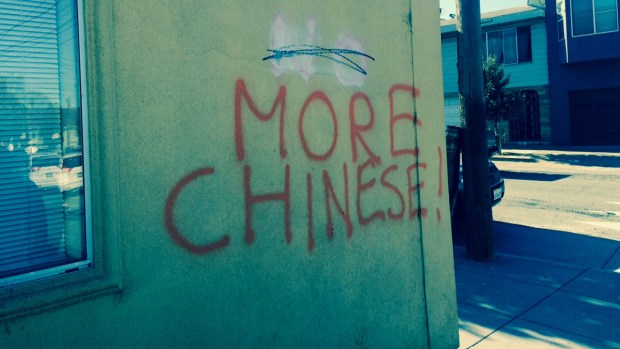 San Francisco Supervisor Julie Christensen issued a statement saying the suspect was arrested Tuesday night.
"Disrespect for our fellow residents and visitors, especially based on ethnicity, is not and will not be tolerated in San Francisco," Christensen said. "I appreciate the police and other city staff recognizing the seriousness of this issue."
Bay City News contributed to this report.