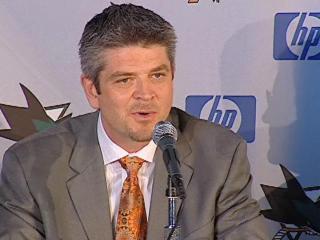 The San Jose Sharks announced Monday that they have mutually agreed to part ways with head coach Todd McLellan.
McLellan, who was named head coach in 2008, led the Sharks to 311 wins and seven Stanley Cup Playoff appearances. This is the first year the team hasn't made the playoffs since 2003.
Sharks Executive Vice President and General Manager Doug Wilson thanked McLellan for his years of service. And he added in a statement: Sometimes a change is best for all parties involved."
The move wasn't totally unexpected, as some also speculated that there would be changes in light of not making the playoffs.
McLellan was gracious in his departure.
"San Jose will always hold a special place for me and my family," McLellan said in a statement. "I would like to thank Doug and the Sharks organization for allowing me the opportunity to coach at the National Hockey League level. While we both agree that a change is in the best interest of myself and the team, I'm proud of what we accomplished as an organization."
Assistant coaches Jim Johnson and Jay Woodcroft, along with video coordinator Brett Heimlich have also been relieved of their duties.
The organization has not announced McLellan's replacement.