The Santa Clara County district attorney filed three misdemeanor charges, including DUI, against NFL linebacker Aldon Smith on Friday, hours after it was reported he was signed by the Oakland Raiders.
The San Francisco 49ers released Smith in August after the linebacker was arrested on suspicion of DUI, hit-and-run and vandalism - his fifth arrest since 2012. And on Friday, news broke that Smith signed a one-year deal with the Raiders, an NFL source confirmed to CSNBayArea.com.
District Attorney spokesman Sean Webby told NBC Bay Area that it was a simple coincidence that the charges were filed on Friday.
At a news conference Friday afternoon, Raiders Coach Jack Del Rio said Smith was a "real good player. We're excited for him to join our family."
But the coach stopped short of saying that Smith would play against the Cincinnati Bengals at the O.Co Coliseum on Sunday, only that the team in general will be "putting together a great performance...we're excited about it."
Reporters repeatedly inquired about Smith's legal woes and Del Rio put them off by saying he would "stand by the comments I've already made on the subject, I think it would be better if you guys just rewound the tape."
RAW: 'It Wasn't a DUI:' 49er Aldon Smith Bails Out of Jail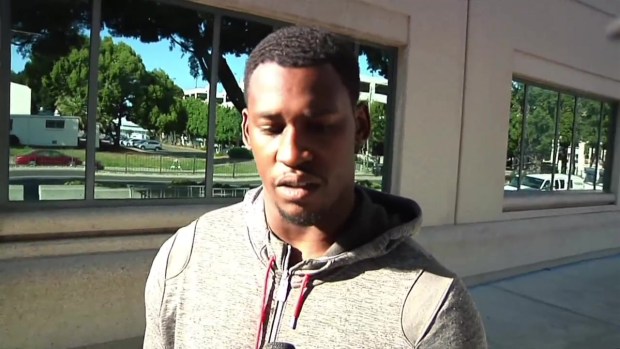 The three misdemeanor charges against Smith are: DUI with prior conviction and refusal to submit to a chemical test, hit and run with property damage and vandalism under $400. If convicted of all charges, and if he is given a consecutive sentence, Webby said Smith could face up to two and half years in county jail.
Santa Clara police said that Smith had struck a neighbor's car near his luxury apartment complex on Aug. 7. He talked with the neighbor and ended up leaving the scene on foot, only to return home an hour later, also on foot. When he did, police said, he appeared drunk and failed a sobriety test.
The vandalism charge, police said, is for when Smith's car door banged into the neighbor's car in the complex lot. Because of a prior weapons conviction, Smith is not allowed to drink any alcohol and drive.
In an interview with reporters after he posted his bail at the time, Smith apologized to his fans, and said that what happened "wasn't a DUI."
"This wasn't a DUI," he said at the time. "The situation that happened could have been handled differently. I'm sorry to everyone that I let down. Justice will be served. It will work out how it's supposed to work out."