We've compiled a list of the Top 10 stories of 2013 that had the greatest impact on those living in the Bay Area and even beyond. There were so many impactful stories this year, that some had to be left off the list.
Three of those include: Sasha Fleischman's skirt being lit on fire in Oakland and racist hate crimes against an African American freshman at San Jose State University, both in November, and the legal and spiritual fight to keep Jahi McMath on life support after she was declared brain dead Dec. 12 following a tonsillectomy at Children's Hospital.
Here's what made our Top 10 this year, in chronological order.
49ers in the Super Bowl
After a 16-season Super Bowl drought, the 49ers found their way back to the NFL's biggest stage in coach Jim Harbaugh's second season. Waiting in New Orleans were the Baltimore Ravens, coached by Harbaugh's older brother, John. San Francisco mounted an impressive second-half comeback on Feb. 3 in the "Bro Bowl," but QB Colin Kaepernick's fourth-down pass to Michael Crabtree was incomplete in the final minute as the Ravens pulled off the victory, 34-31.
Limo Fire on San Mateo Bridge
Five bridal party guests – including the bride - were killed on May 4 when the limousine they were riding in burst into flames on the San Mateo Bridge. Four other women, all Oakland nurses, escaped. Investigators ruled that the fire was caused by the failure of an air suspension system that forced a metal pan beneath the floorboards to rub against the drive shaft, creating friction.
RAW VIDEO: Motorist Drives Past Limo Fire
America's Cup Sailor Killed
The much-anticipated America's Cup in San Francisco Bay was marred by the death of sailor Andrew "Bart" Simpson in a training run on May 9. Overall, the event didn't have the economic impact the city was hoping for, but the actual competition was memorable. Oracle Team USA completed one of the greatest comeback wins in sports history, erasing an 8-1 deficit to defeat Emirates Team New Zealand.
RAW VIDEO: Sailor Dies After America's Cup Boat Capsizes
Same-Sex Marriage
The U.S. Supreme Court cleared the way for same-sex marriages on June 26, after refusing to rule on California's Proposition 8, which meant a lower court's ruling held. That ruling overturned the ban on same sex marriage. Kris Perry and Sandy Stier are the Berkeley couple who brought the case all the way up to the Supreme Court. The High Court also struck down the Defense of Marriage Act.
PHOTOS: SCOTUS Rulings Cheered in SF, DC
Asiana Crash
Asiana Airlines Flight 214 crashed at San Francisco International Airport on July 6, killing two teenage girls. One other girl, 16, died after a fire truck accidentally ran over her on the tarmac. A total of 181 passengers were injured when the plane's tail section broke off and struck the seawall. It was the first fatality involving a commercial airliner in the United States since the February 2009 crash of Colgan Air near Buffalo, NY, where 50 people died.
Rim Fire
A wildfire near Yosemite National Forest burned more than 257,000 acres or 402 square miles, making it California's third largest wildfire in state history and the largest wildfire on record in the Sierra Nevada, a popular hiking and camping spot for many in the Bay Area. The blaze destroyed Berkeley Tuolomne Camp. The fire started in August and was contained in October and was started by a hunter's illegal fire that went out of control.
Replica Rifle Shooting
Sonoma County Sheriff's Deputy Erik Gelhaus shot and killed 13-year-old Andy Lopez of Santa Rosa on Oct. 22 as the boy was carrying a replica AK-47 the deputy later said looked real. The shooting prompted days of protests and state lawmakers to propose a bill forcing toy gun makers to color code replicas. The Lopez family filed a federal lawsuit against the deputy.
New Bay Bridge Span Opens
The new Eastern Span of the Bay Bridge opened on Sept. 2 with a new soaring, sleek tower 24 years after the Loma Prieta earthquake exposed the possible frailties of the old, workhorse bridge, which is now being disassembled. It was thought that the new bridge would take four years to build and cost $1.4 billion. Instead, it took 11 years and cost $6.4 billion.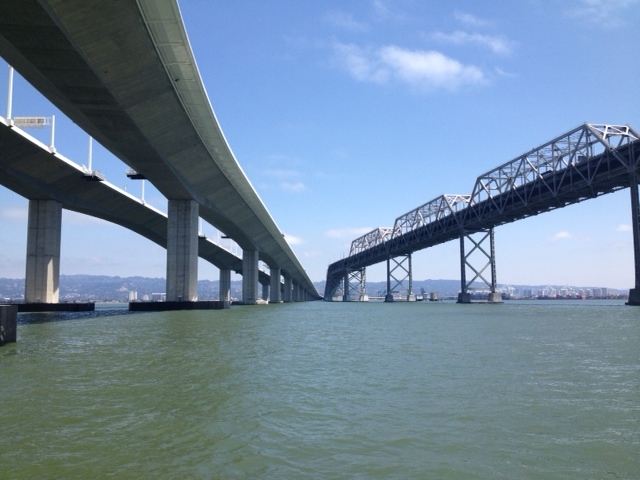 PHOTOS: Bay Bridge Opening Ceremony
Batkid
In remission from leukemia, Miles Scott, 5, of Tulelake County, Calif., turned into "Batkid" for a day, traipsing around San Francisco, which volunteers helped morph into "Gotham City" on Nov. 15. The event was put on with the help of about 12,000 volunteers who responded to Miles' Make-a-Wish plea to be Batman for a day.
BART Strikes and Labor Strife
BART employees first went on a four-day strike in July over pay and safety issues. They went on a second strike in October over pay and work-rule issues. Two workers died on tracks during the middle of this second dispute. BART employees sued management over a discrepancy in paid medical leave time. And in December, the two sides reached a deal, saying their ongoing dispute had been resolved.
NBC Bay Area's Kyle Bonagura contributed to this report.
Published at 11:49 AM PST on Dec 26, 2013 | Updated at 8:50 PM PST on Dec 30, 2013