A furious three-alarm blaze at a Vallejo motel Sunday morning completely destroyed 16 units and forced dozens of people to evacuate, fire officials said.
The fire, which was reported just before 9:30 a.m., consumed an entire wing of the Travel Inn Motel located at 160 Lincoln Rd. East, according to fire officials. A large ball of fire could be seen consuming the building while dark smoke billowed into the air.
"I woke up," evacuee Tanner Bernhard said. "I see a cloud of smoke coming my way so I closed the door and woke up my mom, and we started grabbing everything."
RAW: Raging Fire Engulfs Vallejo Motel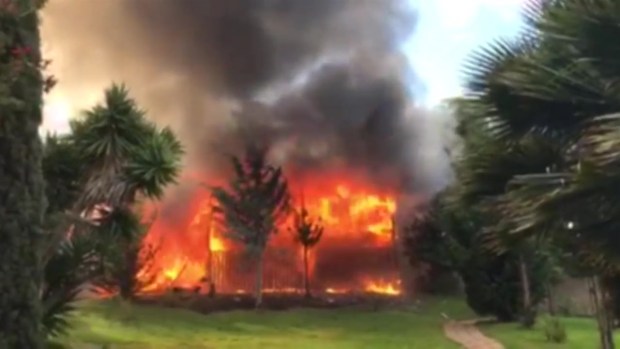 Roughly 30 to 40 people were evacuated from the motel after the flames ignited, according to fire officials.
"It was a big fire," Danny Gutierrez from the Vallejo Fire Department said. "It was one of the bigger fires we've had in awhile."
Three people were transported to area hospitals to be treated for smoke inhalation, according to fire officials. The rest of the evacuees received assistance from Red Cross volunteers.
The cause of the fire is under investigation at this time, but fire officials said they have narrowed down the starting point of the blaze to one room, and they are investigating whether smoke detectors were working at the time.
Aside from people being evacuated from the burning building, a cat was also rescued by a firefighter, but several pets were reported missing after the fact.