The general strike protest in Oakland stayed peaceful for the most part, but there were a few cases of vandalism.

A Wells Fargo had it windows shattered in the late afternoon by a group of people who marched with the Occupy protesters. The bank's front sign was also painted over with graffiti as well as the ATM.
As of 4:30 p.m., there was spray paint all over the Wells Fargo bank at 12th and Broadway, and the bank's front windows were smashed.
Some of the graffiti read, "F--- the bank," and "Don't feed the greed."
The Wells Fargo and a Comerica Bank branch nearby were closed.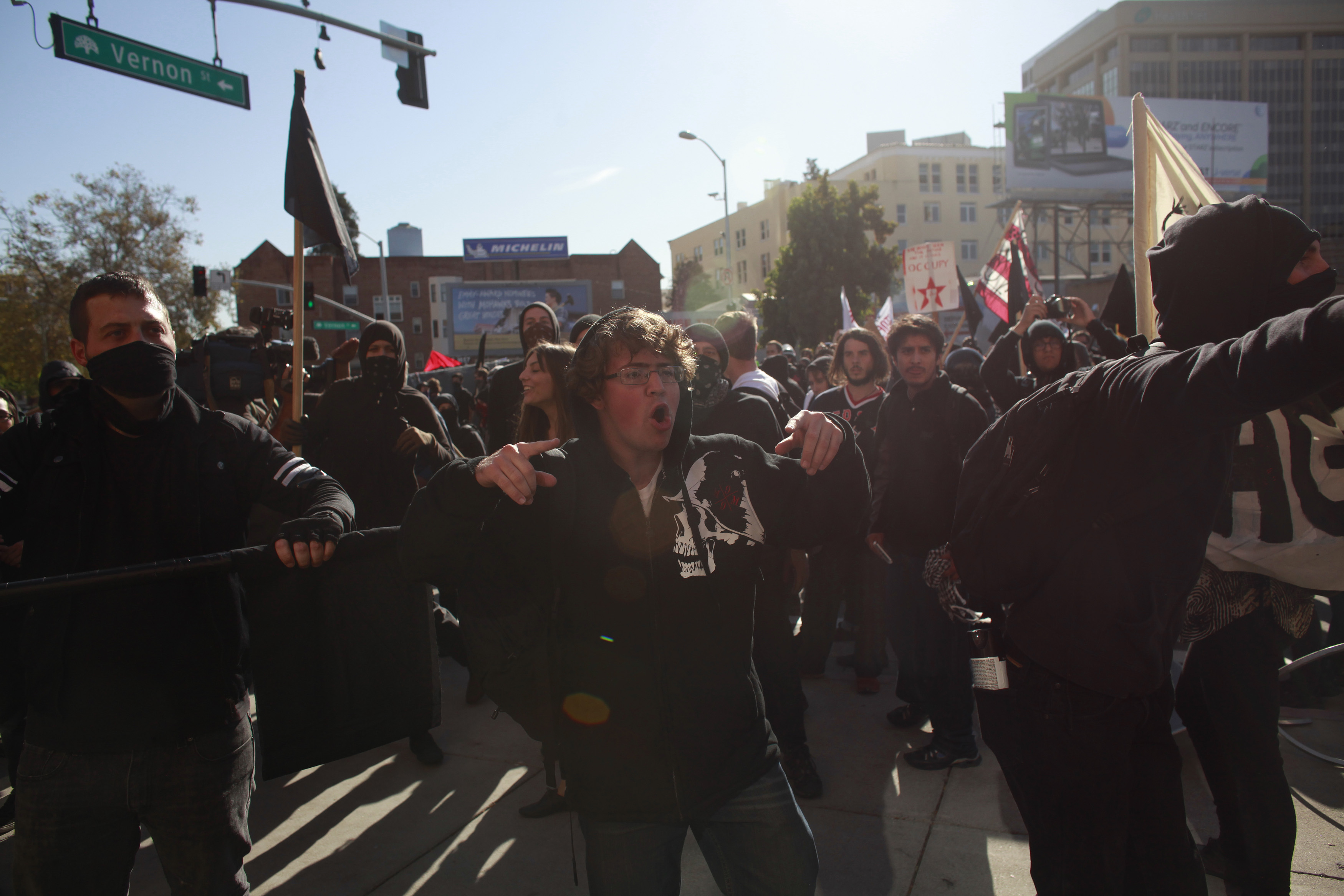 That same group of people dressed in black vandalized a Whole Foods store at 230 Bay Place, off of Grand Avenue. Occupy leaders called them anarchists and said they were not part of the movement.

Chopper video above the scene showed people trying to stop the people wearing black from destroying things.

The word "strike" was painted in large letters across the store's front windows shortly before 3 p.m. an employee at a 7-Eleven across the street said.

Rumors had circulated on Twitter, Facebook and elsewhere that Whole Foods employees risked termination if they participated in today's general strike.

Whole Foods Oakland posted a statement on its Facebook page at around 2:30 p.m. denying the rumors.

The store shut down for the day after windows were smashed and paint was thrown on the storefront during protests related to the Occupy Oakland's general strike today, a Whole Foods spokeswoman said.
A sign at Comerica bank stated, "This office is closed due to an emergency" and advised customers to go to other branch offices in Alameda and San Leandro.
A Walgreens drugstore at 14th and Broadway was open part of the morning but was closed in the afternoon. The Rite Aid drugstore on the opposite side of the intersection was closed.
Among the other businesses near 14th Street and Broadway that were closed were the Men's Wearhouse, Footlocker, Pizza Man, Tully's Coffee and Broadway Beauty.
But some businesses remained open, including Payless Shoes, Burger King and De Lauer's newsstand.

Bay City News