Nestled within San Francisco's Mission District is a space designed for artists with developmental disabilities to create art to their heart's content – without any limitations.
Inside Creativity Explored you'll find vibrant colors and expressive shapes created by the dozens of artists that fill the space day after day. But this isn't just an art studio, it's a place where the artists are attached to. A place where they are empowered to express themselves.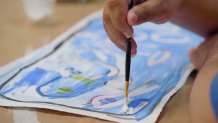 "I've been coming to Creativity Explored for six years and I still intend to keep coming for as long as I can because I don't want to leave this place," artist Isaac Haney-Owens said. "I don't want to lose this part of my life because being an artist is my identity, and I want to keep that alive for as long as possible."
Creativity Explored was first founded in 1983 by Florence and Elias Katz, and was designed to provide artists with developmental disabilities the resources to not only create, but also a space for them to share and sell their art with the community.
"There is a real desire in many of them to express who they are," said Michael Napper, an art instructor at Creativity Explored. "Oftentimes their disabilities may prevent them from expressing in more traditional ways, so art is a way of finding that avenue."
For many of the artists in residence, making a living from their art was not something they ever thought they would achieve. In fact, with Creativity Explored, artists receive 50% of the sale price of their work. Many of the artists – who are low-income – have earned up to $15,000 a year.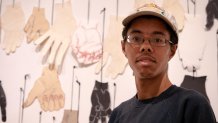 "I'm glad this program is here because it's helping artists with disabilities show their true talents," Haney-Owens said. "Don't just think of them as someone with a disability. Think of them as more than that because they have talent. You just have to give them right tool."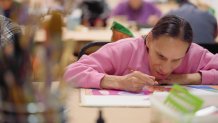 The nonprofit, which houses a studio and a gallery at their location on 16th Street, welcomes visitors to see the art work and meet the artists.
Creativity Explored's latest gallery installment, "Fragments + Resistance" will be on display until Nov. 7.