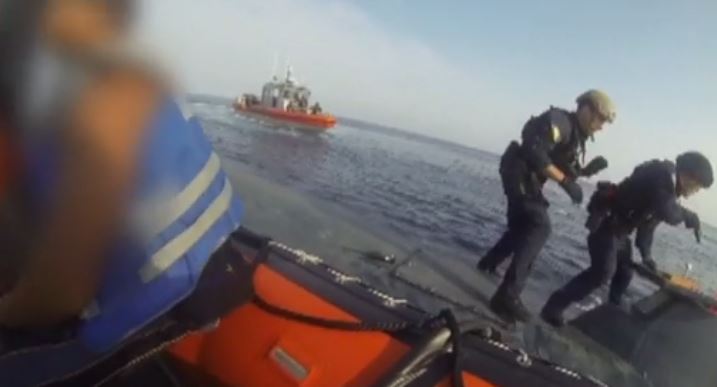 An Alameda-based coast guard crew seized more than 12,000 pounds of cocaine off the coast of Panama earlier this month, according to the Coast Guard Pacific Area Command, which released new video of the seizure Monday.
Members of the coast guard cutter "Bertholf" apprehended four suspected drug smugglers from a self-propelled semisubmersible, or SPSS about 300 miles southwest of Panama on March 3.
The crew was notified by a Customs and Border Protection aircraft about the SPSS off the two interceptor boats to stop the suspected drug smuggling vessel, which was laden with more than $203 million worth of cocaine.
"Transnational organized crime groups continue to adjust their tactics to avoid detection indicated by a recent rise in the use of SPSS vessels," said Vice Adm. Charles Ray, commander, Pacific Area. "Despite these efforts, we will continue to execute an offensive strategy that targets, attacks and disrupts these dangerous criminal networks."
Since June 2015, the Coast Guard has interdicted five SPSS vessels for illicit trafficking. The vessels are constructed with a mostly submerged hull; a cockpit and exhaust pipe are visible just above water. These vessels are extremely difficult to detect and interdict because of their low-profile, the coast guard said.