UPDATE: A four-alarm grass fire on San Bruno Mountain in South San Francisco was fully contained at 41 acres, Cal Fire officials reported this evening.
Firefighters responded with two Cal Fire aircraft and one helicopter and helitack handcrew, according to Brian Molver, district coordinator for the San Mateo County Office of Emergency Services.

No injuries were reported, but some roads were closed including Hillside at Airport Boulevard and Chestnut, Molver said.
The fire was reported around 1:55 p.m. near the intersection of Hillside Boulevard and Chestnut Avenue. Crews stopped the spread of the fire by 4 p.m.
Mop-up operations were underway at 5 p.m. and crews were going to stay on the scene through the evening looking for hot spots.
Some townhomes in the area were evacuated as a precaution, according to NBC Bay Area reporter Monte Francis.
The fire was on South San Francisco side of the San Bruno Mountain and did not enter the city limits of Brisbane.
Crews said the fire scorched about 40 to 50 acres.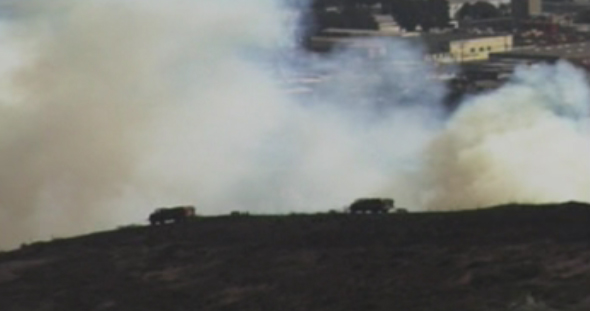 At least 15 engines from South San Francisco Fire, Colma Fire and San Mateo County Fire were working with CalFire to fight the fire. There were also two bulldozers, one helicopter and three prisoner fire crews who responded.
Smoke from the fire could be seen for miles and appeared to slow traffic along Highway 101 near the San Francisco airport.
Although smoke from the fire can be seen from the airport as well, airport spokesman Chuck Navigante says it is not disrupting any flights.
The American Red Cross reported assisting more than 100 firefighters on the scene.