Chloe Howard loves telling young people how Bono changed her life.
After, that is, first telling them who Bono is.
"I won't assume you know," Howard recently told an assembly at Union Middle School in San Jose, "but he's basically the biggest rock star in the world."
A chance encounter with the lead singer of U2, Howard says, is the spark that helped her transform from a depressed, withdrawn victim of assault to an inspirational speaker in demand around the world.
"Bono's a life-changer, man," Howard said.
Howard, a 19-year-old college freshman, was born with a severely clubbed foot. It was a condition that required multiple surgeries, months in casts, and long stretches on crutches to deal with. Even with those hurdles, Howard says her supportive parents helped her be at peace with her disability.
Unfortunately, that peace was shattered her freshman year of high school in Marin County.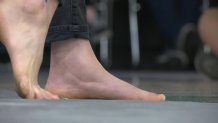 On Nov. 20, 2014, a couple of high school bullies decided to hold her down and rip off her shoes and socks, exposing her feet for anyone within view of the assault to gawk at.
"Seeing all the scars and the permanent discoloration and all the spots on my toes where toenails should be but weren't," she said. "I saw this foot for the first time in my life as something that was ugly. That wasn't an image that I could erase from my mind."
The assault left Howard with a new scar, but not a physical one. She fell into a depression, isolating herself from friends and family. This was her "sweatshirt phase," as she called it.
"I started wearing these massive sweatshirts to school in hopes of hiding myself," she said. "I started suffering from PTSD, quickly diagnosed by my therapist."
But then came hope for Howard, in the form of a massively successful international rock star icon.
Howard's father won a contest where the prize was backstage tickets to meet Bono. Howard said she was shy, but worked up the courage to tell Bono the story of her clubfoot and subsequent assault.
"Bono looked at me and he said, 'Chloe, what happened to you is an injustice, when you use your voice, when you speak out and tell your story, you're speaking for those who can't speak for themselves'," she said.
Howard said Bono's words were so meaningful, she knew she had to be that voice to speak for others that might be going through similar situations.
"I wanted to believe my story was going to continue, my assault wasn't the end of Chloe Ruth Howard as the world knew her," she said.
One year later, Howard was standing on a stage in Santa Barbara, sharing her story in a TED Talk.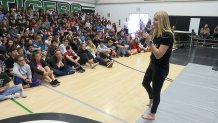 She labeled her story, "Stand Beautiful," and now speaks to groups all over the world, sharing the message of against bullying and for self-acceptance.
Kids these days need to be reminded that they have a purpose in life, said Howard. This was something she shared with the students at Union Middle School.
After her assault, Howard told the kids, the perpetrators were put on trial and found guilty of battery.
"That process was exhausting, so hard and so overwhelming at ages 14, 15 and 16 going through all of this," she said. "No one has the right to touch anyone without their consent, ever."
Many kids in the audience stuck around after Howard's speech to share their own stories of bullying and express their gratitude for Howard's ability to embody the phrase, "Stand Beautiful."