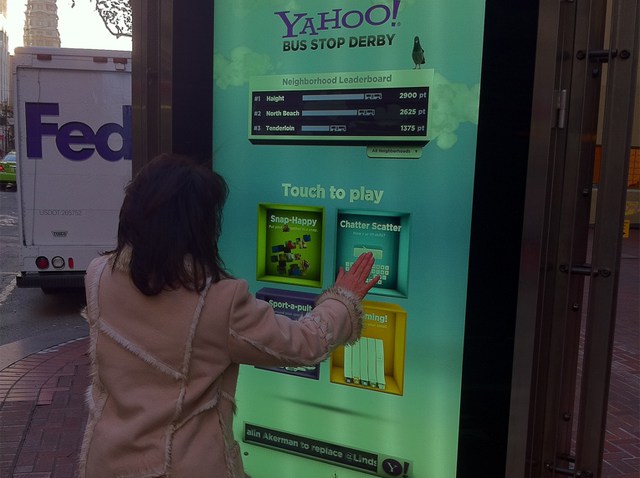 We've all seen people playing games on their smartphones while waiting for a bus. Now, you can leave the five-inches in your pocket, while you wait and play on something much, much larger.
Yahoo! has set up 72-inch video screens inside 20 MUNI bus shelters throughout San Francisco. While you wait for that bus to arrive, you can participate in what the Silicon Valley search giant calls "Bus Stop Derby."
You play a game -- among those offered are Chatter Scatter, sports trivia, and a 3D puzzle game called Snap Happy -- and rack up points. The neighborhood that scores the highest between now and Jan. 28 gets rewarded with tickets to an OK Go concert. You can find out where to play or what neighborhood is winning before heading out.
At six feet tall, each screen looks like an iPad on steriods. When you get to a bus stop, you choose the neighborhood you represent, and then play. The touch screens are giagantic, and should spark dialogue as well as local competition. We haven't seen what happens when it rains yet, and will cruise several MUNI stops to see if, you know, fights break out or anything.
Either way, this is a pretty cool holiday promotion, and if it makes your bus stop wait a little easier, and makes you think warmly of Yahoo at the same time, then the company's marketing team has done its job. And, if you don't yet know who OK Go is, we suggest you pull up one of their famous YouTube videos. Maybe on the big screen.
Scott dreams of six foot iPads. He's on Twitter @scottbudman