Charlene Wilcox, 88, was mystified when she heard President Donald Trump's budget director say Meals on Wheels "doesn't work."
Like many recipients of the national program, she agonized over what that assessment would mean for her deliveries. Sure, she thought, the food is a bit bland, but to her the small black trays of microwavable food are tantamount to survival.
The octogenarian has been dependent upon Walnut Creek's delivery service for about seven years. With no family around, it's often the difference between eating or going hungry, she explained.
"It scared me to death when I heard that," Wilcox said, standing in the doorway of her Rossmoor home. "If they do away with it, I'm in terrible, terrible shape. I'm blind, and I don't really have anyone to help me. I guess I'd starve to death."
Since the budget proposal's unveiling in mid-March, Meals on Wheels said it received an influx of frantic calls from elderly recipients like Wilcox who thought the program was on the brink of collapse. For them, the program isn't just about a meal; it's often the only personal interaction they have all day.
Staffers took to the phones to reassure clients that, yes, their deliveries would still be there. They would still get their wellness check. But internally, the threat of drastic cuts loomed large over the Walnut Creek office.
The budget
If passed by Congress, the Trump administration's proposed budget would increase defense spending by $54 billion, while gutting money from domestic programs and discretionary spending. That includes slashing $3 billion from the Community Development Block Grant under Housing and Urban Development, and $715 million from the Community Services Block Grant under the Department of Health and Human Services.
The latter grant funds the Older Americans Act (OAA), legislation that allows states to tailor programs to meet the needs of elderly residents. The act is responsible for funding a third of subsidized nutritional programs for seniors in the United States, according to Meals on Wheels.
"The OAA — that's everything to us," said Elaine Clark, the director of Walnut Creek's Meals on Wheels and Senior Outreach Services. "The budget would decimate it."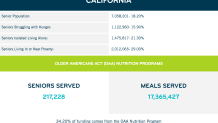 The ramifications of the proposal to Contra Costa County's services has yet to be determined, but the local program gets about 35 percent of funding from the federal government to feed more than 6,500 county seniors each year, according to statistics provided by the Walnut Creek branch. A little more than $4.3 million of the program's overall $10.7 million budget comes from OAA funding.
"They really rely on it, so when they hear 'oh, it's going away,' they are alarmed," said Dayna Sayres, a Walnut Creek volunteer who has been with the nonprofit for two years.
In the same neighborhood as Wilcox, Dorothy Wanamaker sat reading a newspaper when her delivery arrived, courtesy of Sayres, shortly before noon. She let out a heavy sigh as she put the paper down in front of her.
"Oh, they had better take a closer look at it," she said, wrinkling her brow. "Before they do anything, they need to know it's working just fine. Even my cat enjoys it — she likes to lick the tray when it's done."
Wanamaker recently turned 90. The White House, which frequently sends out birthday greetings to those who reach the milestone age, is not welcome in her home.
"With everything going on, if Trump sent me a card, I'd just throw it out," she said, shaking her head.
Despite donations, worries remain
Because Meals on Wheels is a private-public partnership, it also relies heavily on state and private donations. The decades-old nonprofit said it received more than $100,000 in nationwide donations in the two days after the proposal's unveiling, a boon compared to $1,000 in donations it rakes in on an average day.
But Clark still worries about Congress, about Trump, and about the budget, though the flood of support pouring in for meal centers across the country did buoy her outlook. Her program would likely be out at least $100,000 if the current proposal passed, and would mean rolling back critical services and require a restructuring of the program, she said.
"It would be just devastating," Clark said. "It does include all the services that are the safety net, locally, so we can't let that happen."
Close to half a million county meals last year were funded by the OAA grant, according to Meals on Wheels. Sayres, who has delivered hundreds of meals to clients, has no doubts about its efficacy.
"It's not just a nutritious meal and a companionship, but it's also a check – an important safety and security check for the recipients," Sayres said. During one of her routes, she checked in on a client and discovered the woman had fallen and broken her hip. It was Sayres and her father who were there to call an ambulance.
Clark challenged anyone who is skeptical of the program to volunteer and see its benefits for themselves. It would only be a matter of time before they stumbled upon a similar situation, she said.
"I would like to invite every single one of those folks out on a meal delivery, and they will see just how impactful that meal and that wellness check is," Clark said.
Wilcox agrees: "All they have to do is look right here and they can see that it's working," she said. "No doubt about that."