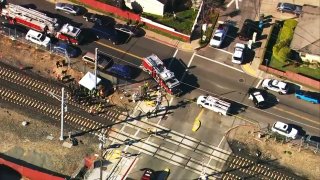 A Caltrain struck a vehicle in San Bruno Friday morning, killing the driver, according to the transit agency.
The collision happened at about 8 a.m. at Scott Street, Caltrain said.
There were roughly 31 passengers on the train at the time of the collision, according to Caltrain. No injuries were reported.
Caltrain said riders should expect delays as a result of the collision.
Riders should visit the Caltrain Alerts Twitter page for real-time updates.