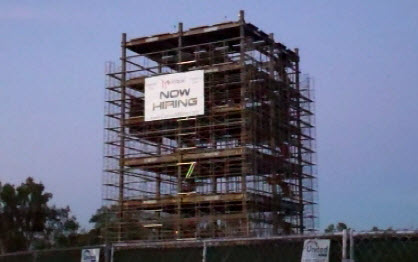 Drivers along Highway 101 in San Jose have probably noticed a multi-floor steal structure going up near the San Jose airport.

If you've been like us and wondered what that was going to be, here is your answer:

It will be a $100 million hotel and casino called M8trix. It's not quite Las Vegas, but the venue promises to be the glitziest thing San Jose has in the gaming arena.

M8trix is an expansion of the current Garden City Casino which is located off Steven's Creek and Saratoga Avenue. Garden City owners said their vision is "to set the new industry standard by adding a touch of Las Vegas to the Bay Area." M8trix will have a 600 room hotel, an indoor theater and a five-star restaurant.

The project looks to be on the fast track. The casino will be ready to take your money by New Year's Eve.

Garden City has job openings connected to the casino. It is hiring cashiers and customer service representatives.