Ellie Cachette fought the law, and the law won, twice, before she successfully appealed her $103 SFMTA ticket for fare evasion. But she's one of very few to receive a refund. Data provided to NBC Bay Area by the transit agency show that for fiscal year 2013, of the 20 percent of tickets submitted for appeal, just 1 percent were successful.
The number of riders getting caught in the dragnet is on the rise. SFMTA fare inspectors are on pace to write more than 70,000 tickets for fare evasion this fiscal year, a number that eclipses the 27,000 tickets written when the Clipper card was first introduced to Muni in 2010. The agency is also poised to collect $3 million in fines, more than twice what it brought in last year.
Note that fiscal year 2013-2014 is a partial year but is already on track to be the most profitable for citations. Credit: Scott Pham.
Cachette was so incensed after receiving her ticket, she wrote a blog post titled "How to Fight the SFMTA and Win." [pdf]
"I had a Clipper card and when I went on Muni at Dolores Park. It beeped and said it was low," said Cachette, an infrequent rider who visits San Francisco for occasional work trips. "So when I went to the Montgomery Street station to add money, an officer pulled me aside and said I was evading fare."
Cachette said she was confused because the Clipper terms of service state that riders may "complete the trip even if the fare exceeds the card's remaining value" as long as funds are added before the card is used again.
Last year SFMTA changed their policy, allowing riders with a negative balance of up to $0.75 one more ride before they have to reload their card. But SFMTA acting director of security, investigations and enforcement Chris Grabarkiewctz told us that ride must be completed in a certain time frame.
"It can be confusing for people," he said. "They are not paying for the ride itself, they're paying for a 90 minute window to ride our vehicles. If the card is examined by a fare inspector, it will show they're riding on a valid fare. Conversely, if someone has used up the 90 minutes and needs to transfer and doesn't have opportunity to load more money, then yes the person is subject to a ticket," Grabarkiewctz said.
Other riders detailed their Clipper frustrations to the Investigative Unit. Commuter and startup founder Sati Hillyer recorded video of several Clipper reader machines that were broken. He's convinced they don't always register payment, even when they are working.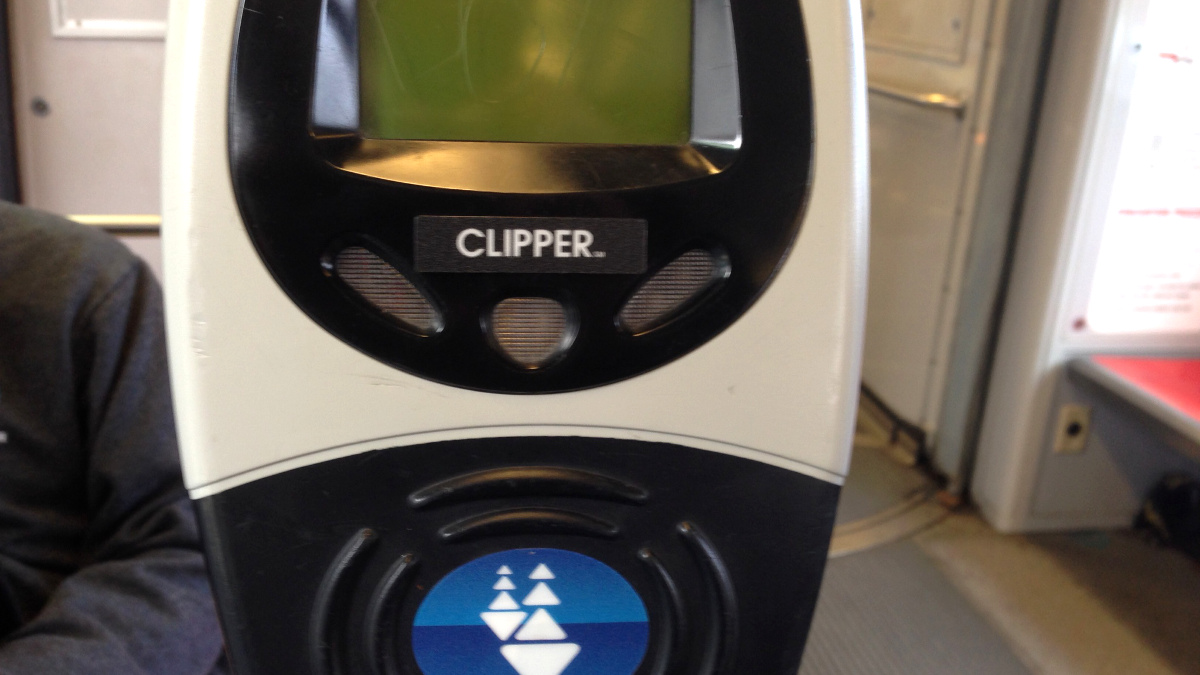 A non-functioning Clipper card reader. Credit: Sati Hillyer.
It's unclear how many of the tickets were the result of a malfunctioning card reader. SFMTA was not able to provide a breakdown of how many fare evasion tickets were written for people with Clipper card issues.
"Frankly the machines are very user friendly," said Grabarkiewctz. "The Clipper website has very clear instructions for what constitutes a tag that will deduct the appropriate fare."
In Cachette's case, after appealing and losing twice by mail,she took a day off work to appeal her ticket in person. Sheinally got her $103 fine refunded, but it was for a reason she didn't expect.
"The copy [of the ticket] that was on file was actually plagiarized," Cachette said. Her ticket didn't have an officer badge number or street location. "However the ticket that was scanned and put on file with the city was completely filled out correctly."
Grabarkiewctz said Cachette's case was an anomaly and that while inspectors often hear that the machines are broken, SFMTA's data shows that only 3% of machines are down at any given time.
Grabarkiewctz acknowledged that inspectors have a quota or "performance standard" requiring them to write at least five tickets per shift, but he attributes the spike in fare evasion tickets to a hiring spree. SFMTA beefed up itsnumber of inspectors by 45% over the past two years to 54 inspectors, in addition to the police officers who assist with fare evasion operations.
Though fare inspectors have the discretion to write a warning instead of a ticket, they usually save those free passes for tourists or young riders.
And until the inspectors make a dent in the estimated $20-22 million a year in lost revenue from fare evaders, riders should not expect much leeway from law enforcement.
function isMobile () { if( navigator.userAgent.match(/iphone/i) || navigator.userAgent.match(/ipad/i) || navigator.userAgent.match(/android/i) || navigator.userAgent.match(/blackberry/i) || navigator.userAgent.match(/android/i) ) { return true; } return false; } if (isMobile()==true) { var myClassNumber = document.getElementsByClassName('myCaption'); for(var i = (myClassNumber.length - 1); i >= 0; i--) { myClassNumber[i].style.visibility="hidden"; } }