The Estrada Fire, which sparked in south Santa Cruz County when a prescribed burn jumped its containment lines Friday, is now 35 percent contained and has burned 148 acres, Cal Fire said Saturday afternoon.
The fire began on Hazel Dell Road and Hidden Canyon northwest of Watsonville, according to officials.
As of noon Saturday, evacuation orders had been reduced to evacuation warnings in the Pajaro area: PAJ-E001, PAJ-E002, PAJ-E003, and PAJ-E007.
The evacuation warning was lifted in Zone CRZ-E046, Cal Fire said.
Crews are "making good progress" in containing the fire, according to Cal Fire. The agency is asking the public to avoid the fire area and the roads leading to the fire area to allow for residents to travel home and for firefighters to continue to work on the fire.
The fire is now estimated to have burned 148 acres with accurate ground truthing and mapping completed earlier on Saturday, Cal Fire officials said.
"Conditions calmed down significantly overnight," Angela Bernheisel, a Cal Fire spokeswoman, said in an interview earlier Saturday.
A Cal Fire prescribed burn in the area Friday afternoon jumped its containment lines near Corralitos Friday, Bernheisel confirmed.
In response, firefighting crews from Cal Fire and Santa Cruz County local fire departments attacked the Estrada Fire and surrounded the fire with retardant Friday night, according to Bernheisel.
On Friday night, residents in Corralitos, just outside of Watsonville, were anxiously watching the fire from ridges and rooftops, trying to get an idea of the progress fire crews were making.
Corralitos resident Angela Hinson said her neighborhood was ready to go in a moment's notice.
"They have their cars loaded up," she said. "They have their cat's cages ready to go and all their important paperwork and photos are in their car, and they're ready to evacuate should they feel the need to if the fire is going back over the hill."
Hinson told NBC Bay Area's Sergio Quintana that she raced home after work on the peninsula to make sure their horses and other livestock were safe. She added that she was not happy that Cal Fire was responsible for the prescribed burn that got out of control.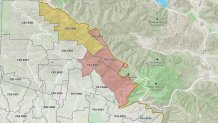 See the full interactive evacuation map here
The Red Cross set up an evacuation center at the Corralitos Community Center, 35 Browns Valley Road in Corralitos.
Another evacuation center was set up at Corralitos Community Church but officials closed it after 10 p.m. Friday due to "light usage."
The Santa Cruz County Equine Evacuation Unit set up an evacuation center for animals and livestock at the Santa Cruz County Fairgrounds in Watsonville. Officials asked residents who are affected by the evacuation orders and need assistance evacuating livestock or large animals to call 831-708-8998.
Bay City News contributed to this report.
Copyright BAYCN - Bay City News