A historic warehouse in North San Jose was destroyed Friday in an early morning fire.
The blaze, initially reported at about 3:40 a.m., ignited at a historic landmark, the H.G. Wade Warehouse, near the intersection of Gold and Moffat streets in the Alviso area of San Jose.
Video from the scene shows the structure fully engulfed in flames, but firefighters were able to contain the flames before they spread to neighboring properties.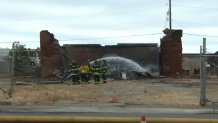 No injuries were immediately reported, but the warehouse that was built in 1860 to store hay and grain bound for San Francisco was destroyed.
The city of San Jose declared the H.G. Wade Warehouse a historic landmark in 2003.
The cause of the fire is under investigation.