A North Bay mother arrested three months ago, accused of choking her daughter's so-called bully, won't be charged.
After the brief court hearing at the Sonoma County courthouse in Santa Rosa, Delia Garcia-Bratcher smiled as she turned away from the judge, fanning her hands in front of her face in nervous excitement.
She spoke to a crowd of reporters waiting for her in the hall.
"I was just really scared," the 30-year-old mother of six said in the hallway. "I'm really glad this is over and done with. I'm done with this. They put it over so long, I didn't know what to expect."
Garcia-Bratcher made national headlines in May when a Sonoma County sheriff's deputy arrested her on one felony charge of inflicting injury on a child. The deputy said Garcia-Bratcher came onto the campus of Olivet Elementary School and choked a 12-year-old boy, leaving red marks on his throat.
"The simple story is, I talked to the boy – I didn't want to get him in trouble, I didn't want to make it a big issue, and it backfired on me," Garcia-Bratcher said outside the courtroom.
After court Thursday, Chief Deputy District Attorney Bill Brockley said he declined to charge Garcia-Bratcher because "I only file cases I feel I can prove." He said many of the 25 witnesses corroborated both the story of Garcia-Bratcher and her 9-year-old daughter, and with all the "diametrically opposed" testimony, he didn't feel he could prove to a jury beyond a reasonable doubt that a crime had occurred.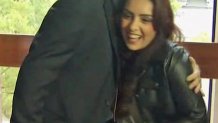 In a previous interview with NBC Bay Area, Garcia-Bratcher's lawyer, Ben Adams, said the boy had been making "racial slurs" at his client's 10-year-old daughter, who is part Native American. "Everyone rushed to judgment that she was guilty," Adams said Thursday, "and then they had to cover their tracks and try to come up with some sort of story that she actually was."
Adams said he believes the investigation took three months because the district attorney was running for re-election and didn't want to dismiss the case before Election Day.
Garcia-Bratcher has steadfastly claimed that she talked to the fifth grader about the alleged bullying and told him to stop, but never put her hands on the boy's throat. At the time, the sheriff's office stated they couldn't find evidence that Garcia-Bratcher's daughter was ever bullied. On Thursday, Brockley said his office never looked into the original bullying allegations, because that wasn't in the prosecutorial scope of the case.
After the arrest, Adams launched a zealous defense of his client. He hired a private investigator who wrote in a seven-page report that the boy actually choked himself and then blamed her for the red marks on his neck, which were photographed at school.
The investigator for Whitestar Group wrote that he interviewed another boy at school who imitated what he saw the 12-year-old do on the day in question by placing "both thumbs together on the center of his neck with his palms facing upwards and grabbing his owns cheek bones." This boy said he told a teacher and a deputy, but he didn't think the deputy believed him. Brockley said that his own investigation found this self-choking allegation to be "inconclusive."
Adams forwarded this report to the district attorney's office, where prosecutors reviewed it and conduction their own investigation.
While Adams said he's never seen a "simple assault case" take three months to investigate, he's ultimately glad "they made the right decision in not filing charges. A lot of people rushed to judgement that she was guilty."
In an interview, Brockely countered it wasn't a simple assault, and took so long because of the gravity of the charge on school grounds and the age of the boy. Also, his office added that it was hard to interview everything because many were on summer vacation.
Garcia-Bratcher, who lost the $3,000 bail money she had to put up, said she learned a grave lesson from this experience. "I talked to the boy. I didn't want to make it a big issue and it backfired on me. I'll never do that again. Next time, I'll just make complaints, complaints, complaints."
She said this entire ordeal has been awful for her – and her kids.
"My kids have been stressed out thinking their mother would be in jail," she said. "They're going to be happy when I get home."