UPDATE: The Merced County Coroner said on Wednesday that four people, not five, died in the bus crash.
Four people died early Tuesday morning after a tour bus crashed into a sign on the highway in central California on its way up from Mexico, according to the California Highway Patrol.
Fifteen people suffered serious to critical injuries, some of whom were trapped in the bus for hours, and a dozen had less serious injuries, according to CHP spokesman Stephen Weeke, who said only four on the bus were not hurt.
The Van Hool bus slammed into the highway "Hammatt Avenue" sign on Highway 99 in Atwater, Merced County, at 3:25 a.m. with 30 people on board, according to CHP Officer Moises Onsurez. Atwater is a city of 28,000 people, about 65 miles northwest of Fresno.
Onsurez said the pole sheared through the center of the white bus, with a California license plate, at an unknown speed.
The bus originated in Mexico, Onsurez said, and was headed to Washington state with stops in Los Angeles, Livingston in Merced County and Sacramento along the way.
There were no brake marks at the scene, meaning the bus hit the pole at full-speed, according to the CHP.
Deadly Tour Bus Crash
The CHP identified the driver as Mario David Vasquez, 57, Los Angeles, who suffered "major injuries." Six passengers were also airlifted to various hospitals, he said.
Sgt. Luis Lara later said that about 10 "walking wounded" passengers were outside the bus when officers arrived.
"It was a mess," Lara said. Some passengers were trapped inside, and firefighters cut them out. "We have every type of injury in that bus."
Onsurez also said that the charter bus had no name on its side and he didn't immediately know who was operating the vehicle. "With this sort of tragedy there is a lot of triage involved," he said.
Jennifer Rivera, 12, told NBC's sister station Telemundo that she was asleep when the bus crashed. She was thrown under the seats and was unable to see anything because her vision was blocked, she said.
Waking to people crying, Jennifer recalled being stuck and getting scraped up as she "got out through a hole." The young girl, who was traveling with two uncles, had been living in Nayarit and was returning to the United States to study, she said.
Meanwhile, Xiomara Huezo, the driver's daughter-in-law, became emotional because at first, the family had barely any information about Vasquez's condition. Initially, they thought Vasquez was dead and then were informed that he was, in fact, hospitalized with grave injuries.
Vasquez is a good driver and a good man, who is grieving the loss of his wife, who recently died of cancer, Huezo said. He doesn't drink or smoke, she stressed, and has never had problems or been involved in accidents.
The driver's granddaughter, Vanessa, also told reporters in Los Angeles that she and her family are hoping he is able to come home soon.
"He's always been there for me — ever since I was a little kid, never left my side," she said.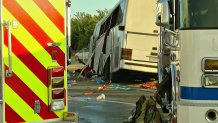 DMV records indicate the 1998 bus is registered to Auto Buses Coordinados USA. No one answered the phone at the Los Angeles office Tuesday.
According to the Federal Motor Carrier Safety Administration, the bus company, which also lists locations in Oceanside and Fresno, has a "satisfactory" service record. But, the FMCSA does show that 30 percent of its bus inspections prompted the government to pull its vehicles out of service over the last two years — above the national average of 20 percent.
Federal records showed the company had more than 23 vehicle maintenance violations since 2014. At least eight of those were severe enough to force inspectors to pull the company's buses off the road, records show.
Of those eight, three were for brake issues, federal records show. The latest inspection for the bus that was involved in Tuesday's crash occurred on April 28, when the federal safety agency found the VanHool had "no or defective brake warning device."
Also, on Feb. 5, 2015, a driver in a vehicle with the same license plate was pulled out of service in Oregon for driving a commercial vehicle with a suspended license.
California Secretary of State business records show that Marisela Castaneda is the "agent of service" for the company. A man who answered the phone number provided to federal inspectors associated with the company said Castaneda was not available to speak, but would pass the message along.
While the cause of the crash is under investigation, the deadly scene quickly turned into a political talking point for the driver's union, the Amalgamated Transit Union AFL-CIO.
Larry Hanley, president of the ATU in Washington, D.C., had no direct knowledge of Tuesday's accident. But he said driver fatigue is the No. 1 cause of motor coach bus accidents and is an issue that is "plaguing our nation's bus companies."
According to a report called "Sudden Death Overtime," the National Transportation Safety Board estimated that 36 percent of motor coach crash fatalities over the past decade have been due to driver fatigue, compared to road conditions (two percent) or inattention (six percent). There was no fog blanketing the highway at that time in the morning, weather radar shows.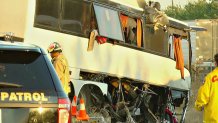 The union has been calling on Congress to pass the Driver Fatigue Prevention Act, introduced by Sen. Charles Schumer, a Democrat from New York, which would extend the overtime protections of the Fair Labor Standards Act to these bus drivers, who often work second jobs during their "rest periods." Rep. Jackie Speier, a Democrat from California, introduced the same thing in the House last month.
Under the legislation, drivers would be paid time and a half for the work they put in above 40 hours a week, making them less inclined to work other jobs and push "their bodies to the limit," Hanley said in a statement.
Since 1990, the ATU has documented 250 tour bus crashes in the United States.
NBC affiliate KSEE in Merced and Telemundo contributed to this report.