The great thing about a good friend is that knowing all your quirks, they still want to spend time with you.
Thomas Page, for example, can tell you all about long-time friend Wendy Wheeler's obsessive need to highlight maps and catalog the miles of all the trails the two hiking buddies have covered together over the years.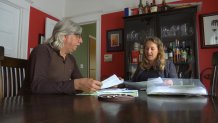 "She's wanting to highlight things during the trails," Page said, laughing.
In Wheeler's defense, though, if she hadn't kept such good track the pair might never have realized that a pretty ambitious goal was withing their reach: hiking every mile of every trail of every park in the East Bay Regional Park District.
"I don't even know who said it. It was just like, 'We should just try to do all of them,'" Page said.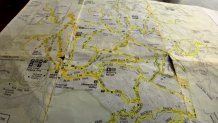 "It was just something that sounded like a cool idea," Wheeler said.
A cool idea that would take quite some time to complete.
There are more than 1,200 miles of trails in the park system but because of dead ends, out-and-backs, and spur trails, Page and Wheeler would have to hike more than 3,000 miles to cover them all.
Wheeler, from Oakland, and Page, from Hayward, spent more than a decade crossing trails and parks off their list until a couple years ago when they were just one, 30-mile hike away from completing their quest.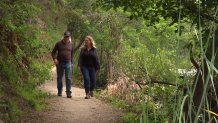 Two years later, though, they still haven't finished.
A leg injury on one hike led to a blood clot in Page's leg. His recovery kept him from hiking at all for many months and still has him not ready to tackle a challenging, multi-day hike like the Ohlone Wilderness, which is the one trail left on their to-do list.
Wheeler, though, could have completed the trail ten times over in the past couple of years but she refuses to hike those last miles alone.
"It's kind of our goal, not my goal. Who cares if we finish in six months or a year," Wheeler said. "I'd rather finish it with him."
Page swears, if the hiking boot were on the other foot, he would do exactly the same.
"Yeah, it's gonna be together," Page said. "It has to be with her."
It is, apparently, just another great thing about a good friend.
They would go to the end of the earth for you, just not the end of the journey without you.