Five more Santa Clara County sheriff's correctional deputies have been placed on leave following an inmate's alleged beating death, bringing the total to eight, a sheriff's sergeant confirmed.
Sgt. James Jensen was vague about the reason for the five deputies, but said there were "multiple investigations" going on at the same time. A source told NBC Bay Area that three of the deputies were being looked at for allegedly exchanging racist texts. One of those jail guards, the union president, Lance Scimeca, is part of that racist text investigation, three sources said. On Sept. 14, Santa Clara County Department of Correction Peace Officers' Association President Lance Scimeca blasted "the administration" on YouTube for assuming jail guards are guilty based on inmate assumptions and he compared the effort of "political rhetoric" and "hysteria" to the "Salem witch trials of 1692."
On Thursday, Scimeca confirmed to NBC Bay Area that he was put on leave days after posting the video, adding that he "stood by" his comments. He would not discuss the reason for his leave or the text allegations.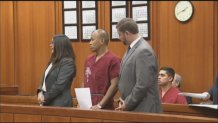 One of the guards is on leave for a completely separate matter, the sources said, and is unrelated to any type of inmate abuse.
Aside from the new investigation, three other deputies were charged with the murder of inmate Michael Tyree, who was found beaten to death in his cell on Aug. 26, the coroner determined. The three are: Jereh Lubrin, Rafael Rodriguez, Matthew Farris. Prosecutors indicated that the three were also involved in texting each other, which showed a pattern of inmate abuse. In one text, Farris allegedly told Rodriguez about his cell block assignment on the sixth floor, where Tyree was housed: "I love 6-A. No camera and no groups. I hope I keep it."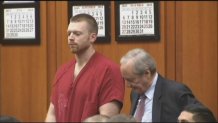 A judge set bail at $1.5 million for the Lubrin, Rodriguez and Farris, and two have since posted the money and were released.
A hearing to enter a plea has been scheduled for Oct. 13.
Jensen also confirmed that about 100 complaints have been filed by inmates against various correctional deputies after Tyree died and are under investigation. He would not elaborate.

[[330269211 ,C]]