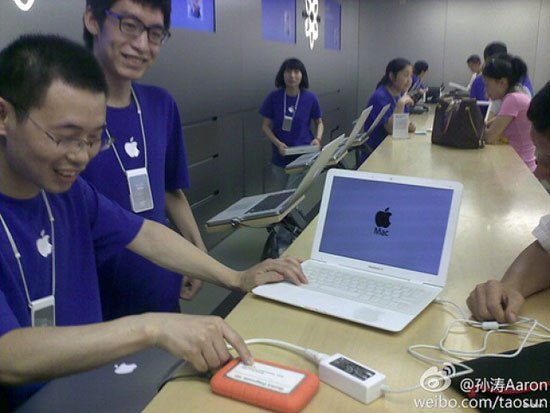 Apple's Genius Bars in official Apple Stores are known to be extremely friendly and helpful, but what happens if you have a fake MacBook Air that's gone haywire? Will the "geniuses" help your FakeBook out? If you live in China, apparently they will!
M.I.C. Gadget reports that a Chinese "cheapo" brought his knock-off MacBook Air (no word on whether it ran a bootleg copy of OS X or Windows) to the Pudong Apple Store in Shanghai and the Apple staff actually helped him troubleshoot it.
Before you pick up your tomatoes to throw at me, know that M.I.C. Gadget has confirmed that the Apple Store was an official one, and not one of those imitations that have been making the news recently.
While I'm positive that it's not within Apple's company policy to diagnose any non-Apple hardware (Apple staff do fiddle with PC laptops if it's an iTunes problem with your iPhone or iPod), actually trying to fix a bootleg MacBook Air isn't in an Apple staffer's job description.
That said, we don't know exactly what issue the "cheapo" had when he brought his fake MacBook Air in, but we do think that if it didn't involve a genuine Apple product, the fellas who took a look at the knock-off could be in for a serious lecture by upper management.
If it didn't involve a real Apple product, then well, I'd say that's some world-class technical support that the Pudong Apple Store has, and I'd like to see that extended worldwide.
Copyright DVICE - DVICE