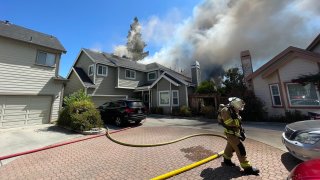 Firefighters on Tuesday contained a fire that burned a portion of a house in Campbell, officials said.
The blaze broke out around 10:40 a.m. in the area of Harrison and East Hamilton avenues.
Santa Clara County Fire Department Assistant Chief Brian Glass said arriving firefighters found vegetation burning on the outside of the house. Flames spread to the attic and some bedrooms inside the two-story home.
"We were able to make an aggressive interior attack and limit the damage," Glass said. "Mostly smoke and water damage at this point."
It's unclear at this time what sparked the fire. An investigation is underway.
No injuries were reported.