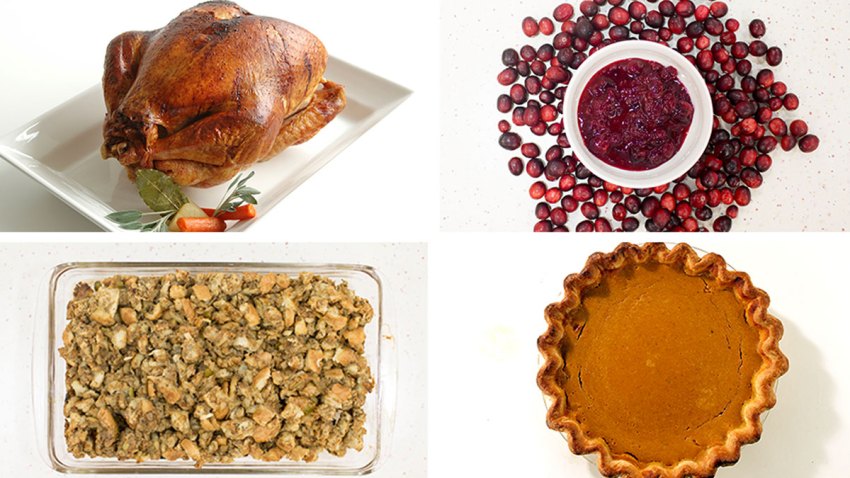 There's a lot to be thankful for at Thanksgiving. Family. Friends. And truthfully, the food.
Meals, smells and certain dishes satisfy not only the belly, but they evoke memories and often loving thoughts about the people you dine with on the national holiday of gratitude.
We're on a mission to collect and share favorite Thanksgiving family recipes. If you'd like to contribute, please send us your name, city of residence, occupation, a photo of your recipe, a written-out version of the recipe, and a photo of the recipe or the dish itself. Then, please one paragraph about what the recipe means to you. Bon Appetit!
Please fill out this form to submit your recipes.
RECIPE: Mimi's Turkey Flautas
NAME: Kris Sanchez
CITY: San Jose
OCCUPATION: Anchor/reporter at NBC Bay Area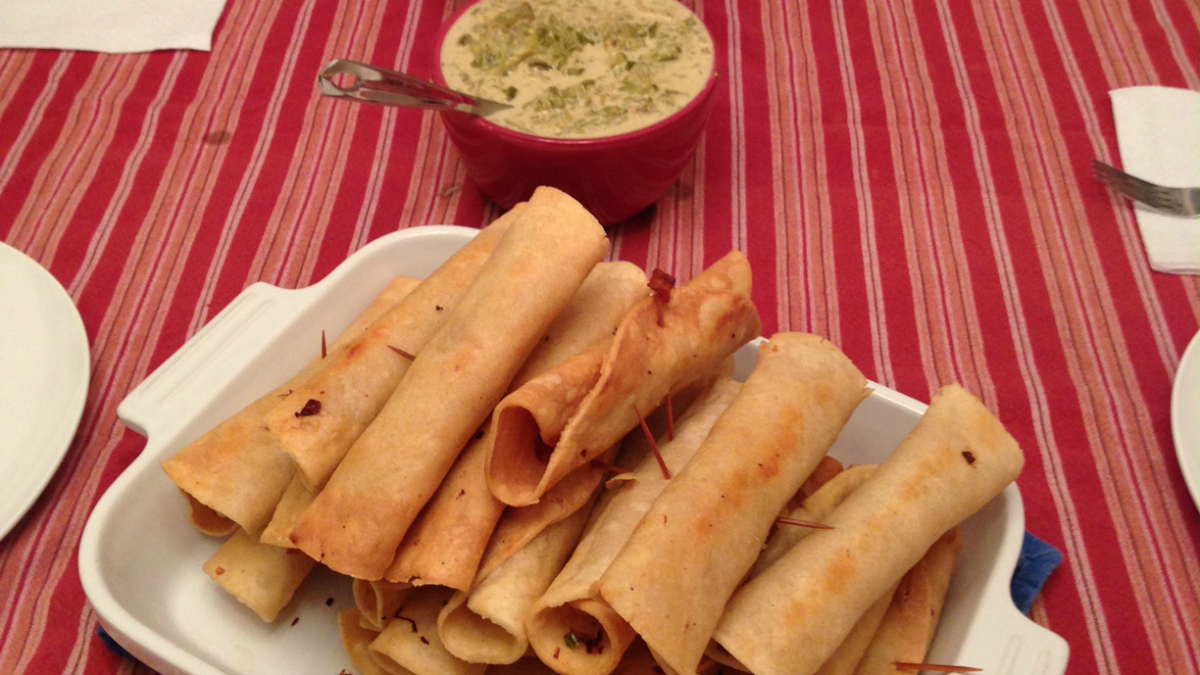 Ingredients:
Leftover turkey, shredded
Diced onion
Diced jalapeno or green bell pepper
Garlic
Cilantro
Corn tortillas
Vegetable oil
Toothpicks
Serve with:
Guacamole
Sour cream
Refried beans
Calabacitas con elote (squash, corn and pepper recipe below)

Directions:
Heat a bit of oil in a pan, sautee onion, garlic and peppers until onions are translucent. Add shredded turkey and warm through then remove from heat. Add in cilantro and set aside.

In another pan, heat a bit of oil. Put about a tablespoon of the turkey filling in a corn tortilla and roll up, using a toothpick to keep closed, then put in oil until golden brown and firm (2 minutes or so.) You can keep warm in a 200-degree oven (unless the family snatches them as quickly as they're cooked!) We serve with guacamole and sour cream, refried beans and Calabacitas con Elote (made with leftover Thanksgiving corn) and pinto beans.

Meaning: My proud Mexican family is also a proud American family, so Thanksgiving is pretty traditional. But leftovers are a different story! On the Friday after Thanksgiving we go back to our Mexican roots. My mom Mimi's flautas are so good, even my Polish-English-Irish husband has set aside his turkey sandwiches.

***********************
RECIPE: Aunt Elaine's Stuffing
NAME: Lisa Fernandez
CITY: Oakland
OCCUPATION: Digital journalist/producer at NBC Bay Area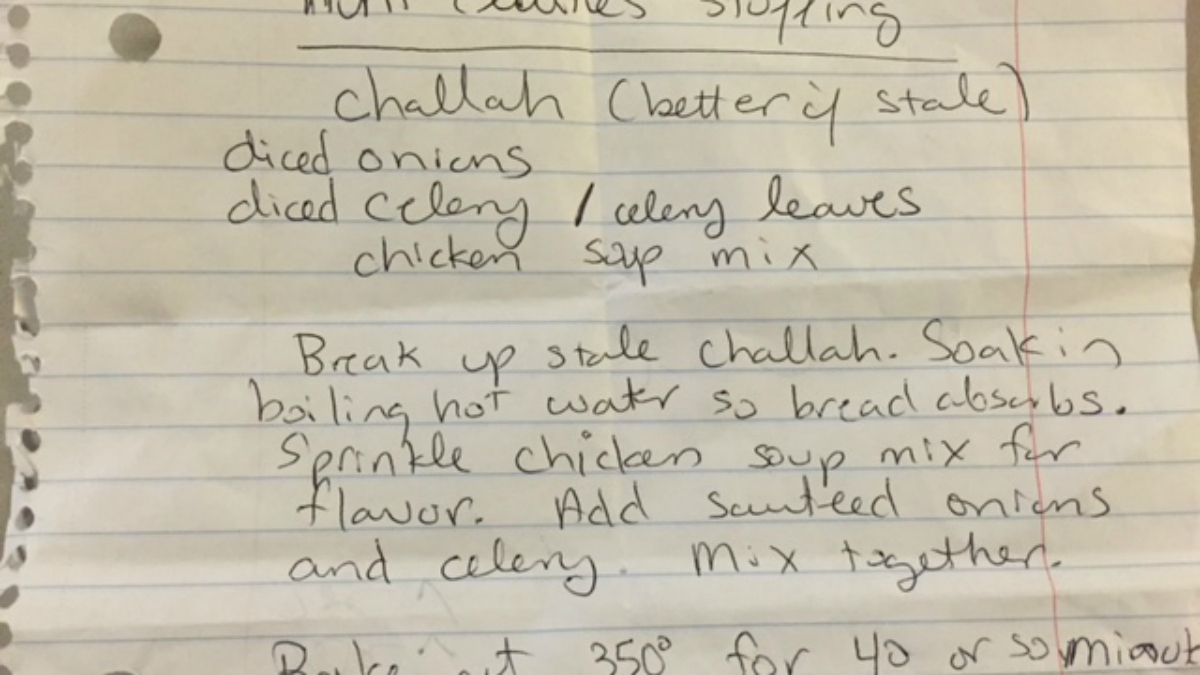 Ingredients:
Challah
Diced onions, celery and chopped up celery leaves
Chicken soup mix
Directions: Break up stale challah. Soak in boiling hot water so that the bread absorbs. Sprinkle in chicken soup mix for flavor. Add sautéed onions, celery and leave. Add salt and pepper to taste. (The chicken soup mix should take care of the salt) Mix well. Bake at 350 degrees until brown and crunchy on top, perhaps 40 minutes.
Meaning: My entire family looks forward to Aunt Elaine's stuffing, especially her brother who heaps his plate full of it. It's not a fancy stuffing. In fact, it's sort of bland. In a very comforting way. My nephews on my husband's side grew up with stuffing laced with sausage and nuts, and actually prefer this very simple recipe. Whenever I makes it, the smells the celery and onions cooking on the stove, I think of my aunt.
***********************
RECIPE: Alan's Mom's Stuffed Cabbage
NAME: Alan Waples
CITY: Livermore
OCCUPATION: Photographer at NBC Bay Area

[[351804941, C]]
Ingredients:
One head cabbage with with large loose leaves. One onion minched. One pound ground beef. One cup cooked rice. One egg, beaten. Salt, pepper to taste. Half cup water. One cup cultured sour cream.

Directions: Remove outer leaves from cabbage and cook in boiling salt water for three minutes. Drain. Brown hamburger rice in mixture on cabbage leaves. Roll up and fasten with toothpicks. Place in greased baking sih. Stir tomato paste, water and sour cream. Pour over cabbage rolls. Cover and bake at 350 degrees for an hour.

Meaning: Alan just loves cabbage rolls. Who doesn't? His mother used to make them for him, as a nod to her native Yugoslavia. His mom didn't use a recipe, she cooked from her head. He found this in an Amish cookbook in Indiana while visiting his wife's family.

***********************
RECIPE: Calabacitas con Elote (Corn, squash and peppers)
NAME: Kris Sanchez
CITY: San Jose
OCCUPATION: Anchor/reporter at NBC Bay Area
[[ 351823851 ,C]]
Ingredients:
1 chopped white onion
3 zucchinis, diced or sliced in half-moons
2 cups corn (leftover from Thanksgiving)
2 poblano or 3 anaheim peppers, roasted, peeled and chopped
(or canned Ortega if you're in a bind)
½ cup milk or cream
Salt
Pepper
Chopped cilantro

Directions: Heat oil in a pan, adding onion and zucchini. Cook until soft, then add corn, chopped peppers, milk or cream and simmer. The starch in the corn will combine with the cream or milk to make a nice sauce. Season with salt and pepper (as my grandma would say "a tu gusto" – to your liking) and toss in cilantro before serving.

Meaning: My grandpa – Abuelo Rigo – always grew zucchini and peppers in his garden so this was usually on the table. With the squash and corn, it always seemed perfect for Thanksgiving.
***********************