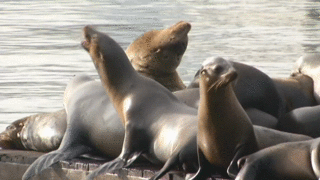 Happy anniversary to the sea lions at San Francisco's Pier 39.
It's been 26 years since the popular mammals arrived at the tourist hub and made it their home.
For some reason, they just showed up after the Loma Prieta earthquake.
At first, business owners wanted them to go away.
Then, the they realized what a tourist attraction the sea lions could be.
To celebrate, folks can come out to enjoy free, guided Sea Lion Walking Encounter Tours -- from now through Monday.