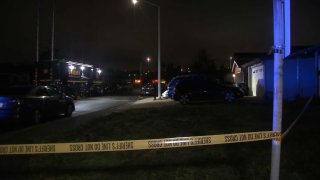 The barricaded suspect in an hours-long standoff in San Pablo was arrested Wednesday morning, according to Contra Costa County sheriff's officials.
Police and sheriff's deputies converged on a home in a San Pablo neighborhood Tuesday night, and the scene remained active Wednesday morning as SWAT teams and drones responded to the scene on O'Toole Way, the sheriff's office said.
Sheriff's SWAT team members entered the home later Wednesday morning to clear the house and found the suspect, sheriff's officials said. He was taken into custody.
Sheriff's officials said the suspect brandished and fired a weapon earlier in the morning.
No further details were immediately available.