A thief made off with a football signed by Hall of Famer Jerry Rice during a charity fundraiser in Milpitas last weekend, and the theft was caught on camera.
The event for the Price of Peace Foundation, held at the Koi Palace restaurant, raised money to build a house for 140 orphans with special needs in China. Rice, the former San Francisco 49ers and Oakland Raiders star, was in attendance to auction off the signed football, one of the marquee items being offered at the fundraiser.
Amy Fu had the winning bid of $3,500. But the ball was swiped before she could take it home.
"A famous star like Jerry Rice would still have love and heart for young kids, so that's why she was touched," a translator for Fu said.
At the end of the evening, as Fu posed for a photograph, the thief struck. Surveillance video shows the man taking it from behind the counter.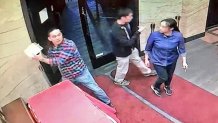 "So suprising to her that still for a charity event people steal things," Fu's translator said.
Rice endorses one of the products made by Price of Peace. The president of the foundation also was disappointed.
"Sad to see these kind of things happen, especially when people are trying to show love for the support of the orphanage," Kenneth Yeung said.
Milpitas police are investigating the incident and asking for the public's help.
Fu wants the personalized ball back, not just for herself.
"She was thinking about taking it back to China to show the kids about how people in the U.S. auction off things to raise money for their surgeries and other fees," Yeung said,
The event still raised a lot of money for the children. And Fu's generosity didn't waver: She said if the thief returns the ball, she won't press charges.