After 40 years as the San Francisco Ballet's wardrobe master, George Elvin is hanging up a long career that's tiptoed through everything from Bolshoi to Nutcracker. Just don't ask him about the music of the latter, which he calculated he's heard during 1,300 performances.
"If it's just about listening to the Nutcracker music you'd lose your mind," Elvin said with a hearty laugh. "Over and over again."
Far from the glamour of the stage, Elvin has toiled for nearly 41 years in the ballet's bunker-like basement wardrobe room filled with sewing machines, multi-colored spools of thread and classic tutus — some dating back decades.
At the end of the month, as the last notes of Tchaikovsky's classic ballet fade into the ephemera of another year, Elvin will retire, exiting stage left for the gangplank of a four-month world cruise.
It's almost a Christmas miracle that Elvin's trajectory even landed him the ballet gig. He started out as a salesman with no knowledge of toe shoes or piourettes. About 40 years ago, burned out on his sales job, he ventured over to the opera for an interview and got a job dressing the shows.
Less than a year later the ballet offered him a job as a dresser on the ballet Party Boys.
"I said 'I can't build and I can't design,'" he recalled. "And they said 'No, we want you to run the department.' I said 'OK,' and I'm still here."
As wardrobe master, Elvin wears all the hats of the ballet; carrying-out the vision of the artistic director, running the ballet's international tours, and caring for the company's prized collection of valuable costumes.
"A tutu's $4 or $5 thousand dollars," Elvin said. "You want it to last 15, 20 years."
Elvin pointed to a table where an ornate stack of tutus for the upcoming run of Sleeping Beauty were undergoing restoration. He said it takes months of long workdays to get a show's costumes ready for a performance. The outfits take a beating during rehearsals and performances.
"If sweat bothers you, you won't last too long as a wardrobe person in this business," Elvin chuckled.
Elvin may not have plotted his journey into the ballet, but there were some clues in his childhood that it was at least a possibility. He learned to sew a bit as a kid. And his preference of music steered clear of rock and roll.
"I grew up listening to the Metropolitan Opera broadcast on my little transistor radio when I was 10 years old," Elvin said.
Elvin said he's watched generations of dancers grow up before his eyes — the company currently includes some children of dancers he knew when he was starting out.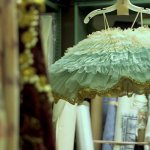 Years toiling away long hours at the high-stress job burned him out long ago, but that all changed with the infusion of new vision when artistic director Helgi Tomasson signed on to lead the company in 1985. Tomasson transformed the company into a world-class institution — which trickled down a renewed enthusiasm to the wardrobe room.
"Not many people get to experience that in their career," Elvin said, "when they're part of something that is at the top of their profession."
Across the table, women's head of wardrobe Patti Fitzpatrick looked on fondly at her co-worker of 34 years, marveling at the decades that had slipped by since she joined the wardrobe room.
"After 34 Nutcrackers it could get to be monotonous I guess," Fitzpatrick said looking up from the tutu she was sewing. "But it's not with George around."
Elvin said highlights of his tenure have been taking the ballet to Paris and the time Gene Kelly served as host for the ballet's 50th anniversary celebration. Ultimately the memories of good things stacked higher than the difficult ones.
"This is family, this is home," Elvin said. "I get paid to walk into this magnificent theater every day for 40 years, but it's time for somebody else and it's time for me to step back and take care of myself instead of my 75 dancers."
For now, though, retirement was weeks away and there were immediate duties at hand. Elvin bounced around the wardrobe room like a pinball, pulling paperwork one second, laying hands on the ornate embroidering of a gown the next. There was plenty he would miss. Some things he wouldn't.
"It's the people, it's beautiful music you hear at times," he said, cracking a grin, "other than Nutcracker."