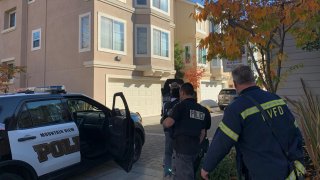 A man who barricaded inside a Mountain View home Wednesday morning is now in custody, authorities confirm.
Officers around 8:45 a.m. responded to the home on the 500 block of Front Lane after a couple called and said their was an unknown man inside their kitchen, police said.
The couple went to a bedroom, locked the door and called police. Officers and firefighters arrived on scene and helped the couple get out of the home safely, police said.
Mental health personnel and crisis negotiators worked together to peacefully resolve the situation and were able to get the man to exit the home at around 12:20 p.m.
The man is now on custody. No further details have been released.
This is a developing story. Stay tuned for updates.