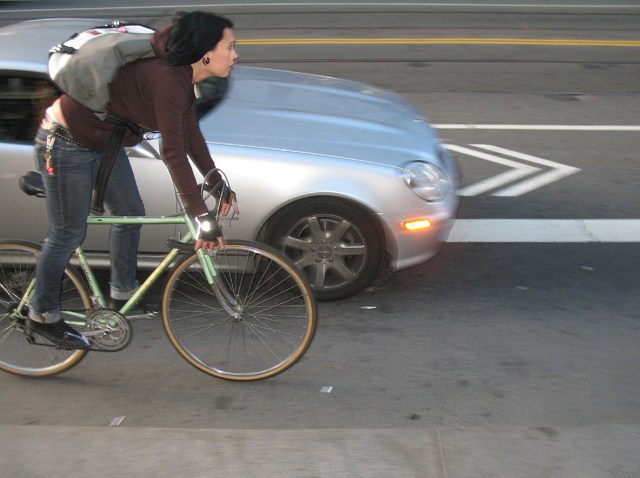 If you look at old grainy, black and white video of San Francisco's Market Street from 1905, you'll see pedestrians, streetcars and cars all jostling for space. More than a century later, things don't look all that different.

But for the first time since the car first peeled onto the scene, its presence on Market street will soon be greatly diminished.

On Sept. 29th, San Francisco will begin a grand experiment to see what a car-free Market Street would look like.

The city is launching a six week pilot project that will require cars heading East on Market toward the Ferry Building to turn off at 8th or 6th streets.

"The idea is it reduces through traffic," says SFMTA spokesman Judson True. "So if a car is going all the way down there then they won't be able to do it on Market Street."

Muni, bicyclists, delivery trucks and taxis will still have the run of Market.

For now, Westbound traffic isn't affected. True says cars diverted off Market will most likely end-up on Mission or Folsom. He says signs will be posted near Van Ness to try and urge drivers to find another route before reaching the required turnoffs.

"What we're going to be doing as far as the test, is looking at where those cars go and what impact they have on the rest of the transportation grid," True said.

Bicycle advocates have long championed the idea of banning cars altogether on Market Street.

Leah Shahum of the San Francisco Bicycle Coalition envisions Market as a vast public space, where cyclists and pedestrians have free reign without the fear of ending up under someone's tires.

"We want Market street to not just be a place you move through quickly," said Shahum. "But also stay and enjoy it, that you're drawn to. "

The City estimates cars make up only 20 percent of the traffic on Market Street.

Mayor Gavin Newsom and supervisors, such as Chris Daly say a car ban wouldn't be as drastic as some might think. But business leaders favor compromise, over an all-out ban on cars.

"I think they're concerned the street would be desolate,"said Carolyn Diamond of the Market Street Association. "People know you can't drive on Market Street and that sends a psychological message that they don't want to come here to begin with."

Whether the pilot project will lead to further car restrictions remains to be seen. But the forces of change seem to be driving in that direction.

Copyright CURBS